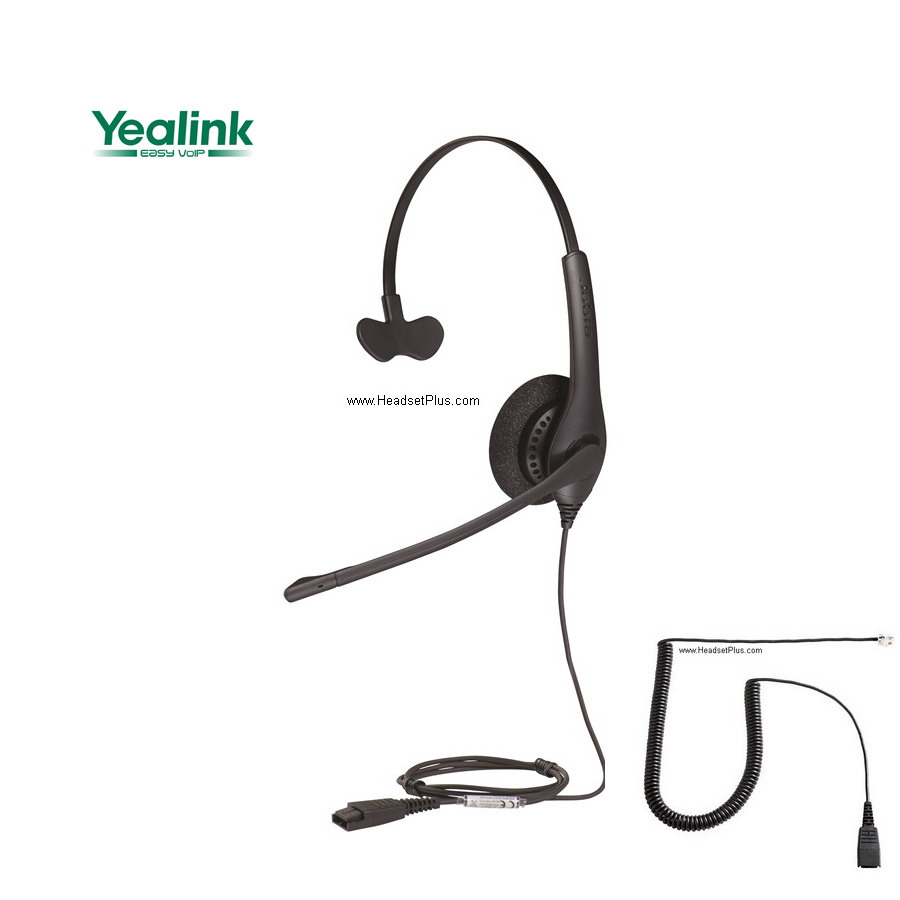 Yealink SIP Phone Compatible Headsets Reviews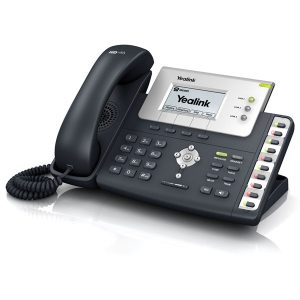 Looking for a good headset for your new Yealink IP phone?  HeadsetPlus.com stock both corded and wireless headsets for Yealink SIP deskphones (models SIP-T19P, SIP-T20P, SIP-T21P, SIP-T22P, SIP-T23P, SIP-T23G, SIP-T26P, SIP-T27P, SIP-T28P, SIP-T29G, SIP-T32G, SIP-T38G, SIP-T40P, SIP-T40G, SIP-T41P, SIP-T41S, SIP-T42G, SIP-T42S, SIP-T46G, T46S, SIP-T48G, SIP-T48S SIP-T49G, SIP-T52S,SIP-T54S, SIP-T56A, SIP-T58A, SIP-T58V ).   Let's look at some of the best rated with best customer reviews Yealink compatible headsets starting from the most affordable:
Jabra Biz 1500 Mono Yealink Certified Headset .. $119.96.  At only $119.96, this is the most basic and most affordable of all the Yealink compatible headsets we carry.  Not to say this is a bad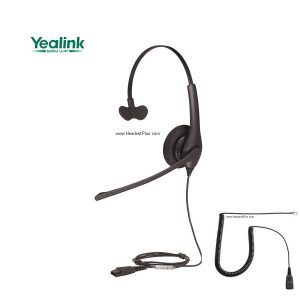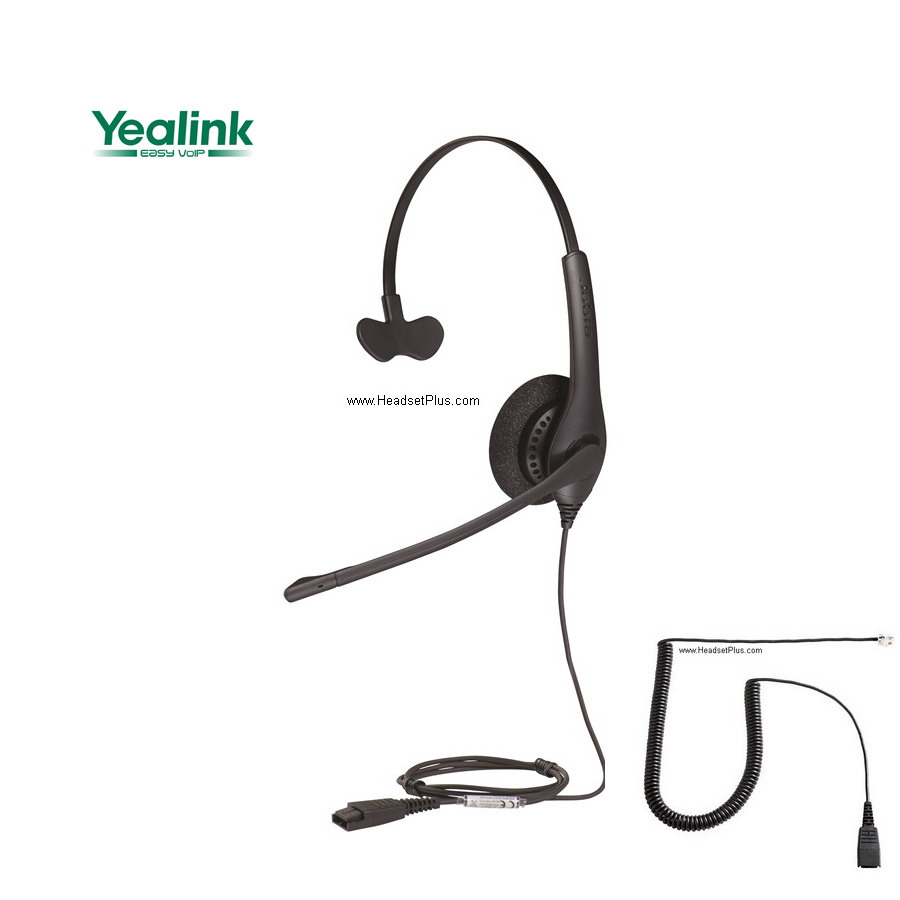 headset, it still has most of the features of the more expensive models like noise canceling microphone, wide band audio, 2 year warranty, etc.  It includes the Yealink certified compatible adapter cable. Simply plug into the Yealink's headset jack. It's by far our best selling model due to the low price point.  It's very popular for large customer service contact centers where it needs to deploy large quality of headsets for all of its agents.  The 2 year warranty coverage will ensure your headset investment doesn't go to waste. Jabra will simply send you another headset if it fails within 2 years.
Plantronics HW510-YEA Yealink Certified Headset .. $149.96.  This is the Plantronics basic model.  As you see, the price is not nearly as attractive as the Jabra Biz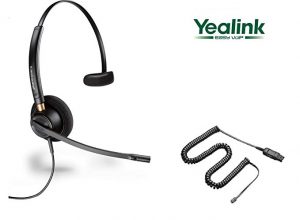 1500.  It offers the same 2 year warranty, similar features such as wide band audio for the Yealink SIP phone and noise canceling microphone.  Tested and certified by Yealink as 100% compatible.  The Plantronics HW510-YEA has an "ultra-noise canceling" microphone to reduce background noise to a higher level. Construction is a better  than the Jabra Biz 1500 series.  The boom is also fully adjust and bendable so you and adjust it to any position you like. Wide band audio enhances audio so it's more natural human sounding.  Anybody with hearing aids, it's also telecoil hearing aid compatible.
PlaPlantronics HW520-YEA Yealink Certified Headset $159.96.  The Plantronics HW520-YEA is the double ear version of the popular Plantronics HW520-YEA.  Designed for a noisy office when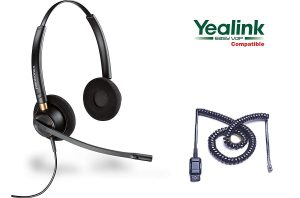 lots of people talking on the phone at the same time.  Having both ears covered will help the user focus more on the phone call rather than be distracted by all the background noise and all the people talking around him.  It's also been pre-packaged with a certified Yealink adapter cable.  Simply plug into the Yealink's headset jack.  Using the "headset" button, you are ready to talk on the phone.  All the same features as the HW520-YEA – Ultra noise canceling microphone, fully adjustable and bendable boom, wideband audio, and a full 2 year warranty.  In addition, it's also telecoil hearing aid compatible.
Plantronics HW710-YEA Yealink Certified Headset $179.96.  The Plantronics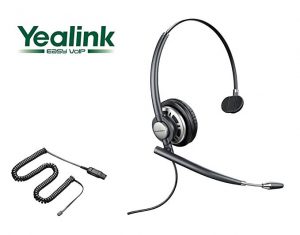 EncorePro series HW710-YEA is the top of the line corded headset for the Yealink VoIP phones. It's more sturdy than the Plantronics HW510/HW520 with reinforced, lightweight headband.  Equipped with larger padded speakers, leatherette ear cushions and a microphone that you can "telescope" or retract to fit to any position in front of your mouth for the best sound transmission.  High frequency wide band audio technology delivers the best possible human voice of any headset on the market. Guaranteed with the same 2 year Plantronics warranty.  Making this one of the best Yealink compatible wired headset on the market today.
Plantronics HW720-YEA Yealink Certified Headset $189.96.  This Plantronics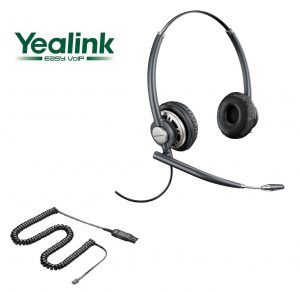 HW720-YEA is the bin-aural (double ear) version of the HW710-YEA.  Design for a noisy office with sound coming out of both speakers for both ears.  The dual speakers helps out blocking office noise so the user can concentrate on the phone call without all the office distractions.  Large leather ear cushions for all day comfort.  Retractable noise canceling microphone can filter out background noise so the caller on the other end don't hear all the office chatter or the keyboard.  The HW720-YEA is highly recommended for anybody working in a large call center or office with many people in the same room.  2 year warranty from Plantronics guarantees this headset a good investment.
Plantronics Savi 7210 +EHS Yealink Certified Wireless.  This is the Plantronics Savi 7210 wireless headset bundle bundle together with a Yealink EHS adapter.  One of the newest headsets from Poly, formerly known as Plantronics .  You can roam the office and answer and end your Yealink phone calls up to 400 ft away.  Noise canceling microphone with flexible microphone boom arm that allows you to block most of the unwanted noise in the office. Freshly design with a nice built in quality and improved range than its predecessor.gh quality office headset.  Excellent sound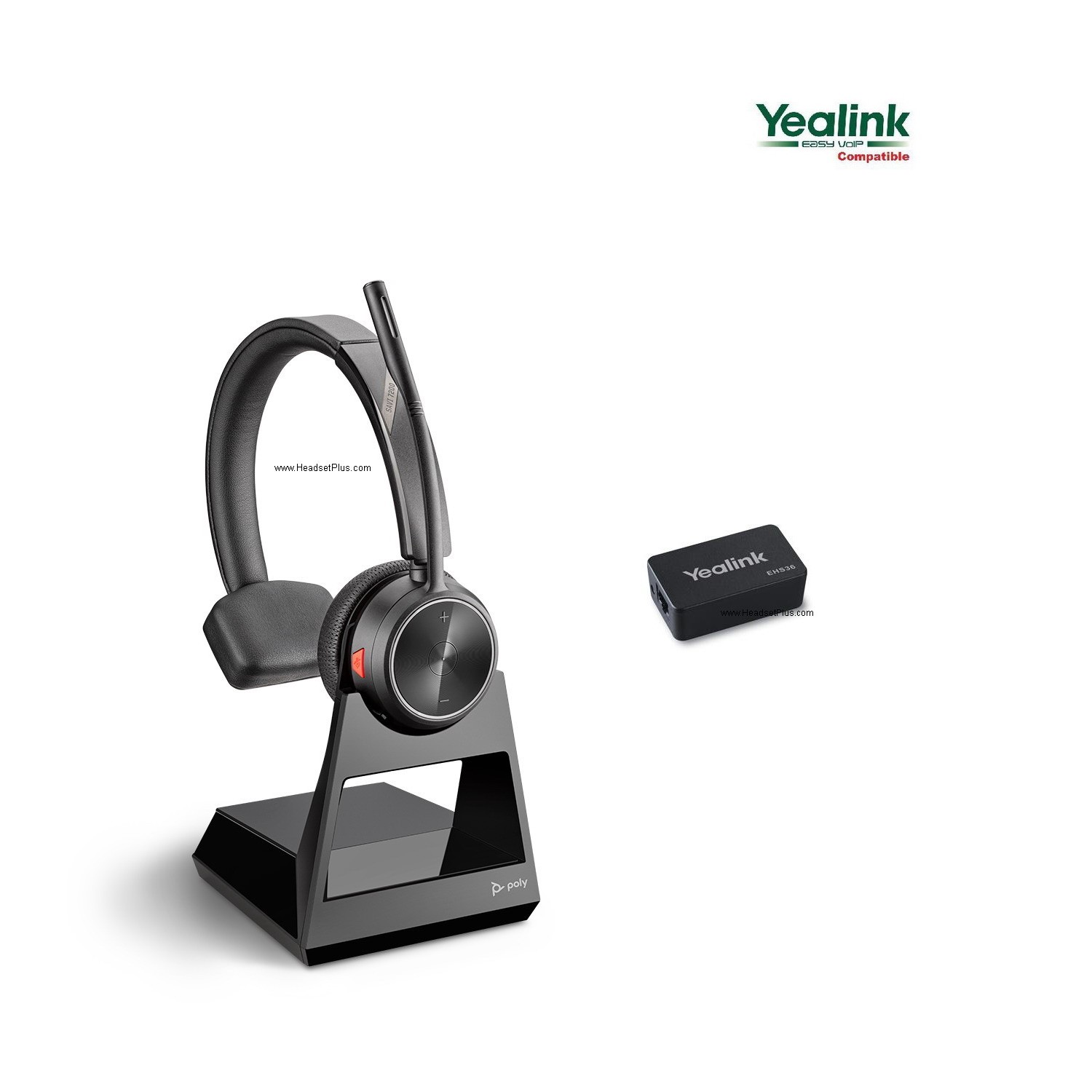 quality with the digital signal processing (DSP) technology as well as noise canceling microphone to block out office noise, with Plantronics SoundGar technolog . This bundle includes a Yealink EHS adapter. "EHS" stands for Electronic Hookswitch.  It provides the user the ability to answer the phone call remotely, up to400 feet away, as well as hang up the call the at the same 400 feet distance.  So the customer service agent can be in the copying room  for example, and still hear the phone ring (it beeps in the headset speaker) and answer the call. Without the EHS adapter, the agent would have to run back to the telephone to answer.  This headset package is compatible with most Yealink SIP phone models.
Plantronics CS540+EHS Yealink Certified Wireless Remote Answer  – This is Plantronics version of the Yealink compatible wireless headset.  This package too comes pre-packaged with the Yealink EHS adapter for remote answering.  Plantronics CS540 is probably the most popular wireless headset on the market today.  It's a convertible headset, which means it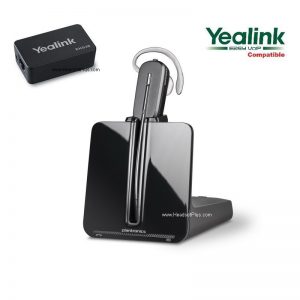 comes with two wearing styles you can choose from (over-the-head over over-the-ear). You can decide which style you like after the get the headset.  It has the same excellent 300ft range like the Jabra.  The difference with the CS540 is that the battery is user replaceable after 2-3 years of user.  The Jabra Pro 920 is not, you would have to replace the entire earpiece when the battery dies.  Like the Jabra 920 Yealink bundle, the Plantronics CS540 -Yealink bundle also comes with the Yealink EHS adapter for remote answer/hangup feature.  Once the battery is fully charged, the user be talk on the phone for 7 hours without having to re-charge.  So it's almost impossible to run out of battery during the course of a day. Compatible with Yealink models SIP-T48S T48G T46S T46G T42S T42G T41S T41P T40G T40P T38G T29G T28 T27G T27P T26P.  Others Yealnk phones may not be EHS compatible.  New Yealink models are constantly added, check our website or call 650-306-9668 for the latest model compatibility.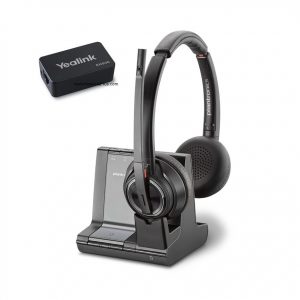 The newest and best headset on the market, hands down. Ideal for louder environments. This headset is a revamp of the older Savi series, a beefed up version if you will. It connects to 3 devices, your Yealink phone, computer, and a cell phone. You get 590 ft wireless range line of sight and 13 hours of talk time with a hulk sized 50 hours of standby. The best part of this headset is the active noise canceling feature. Not only does it have a great noise canceling mic, but if you just feel like ignoring everyone in the office, you can just turn the active noise canceling on. This headset comes with everything that you need, including remote answering. If you're not familiar with that, remote answering allows you to answer and end phone calls when you're not physically at your phone. It's super awesome to have, I can wander all around the office and not worry about missing a phone call. Trust me and just buy this. Click here to buy now.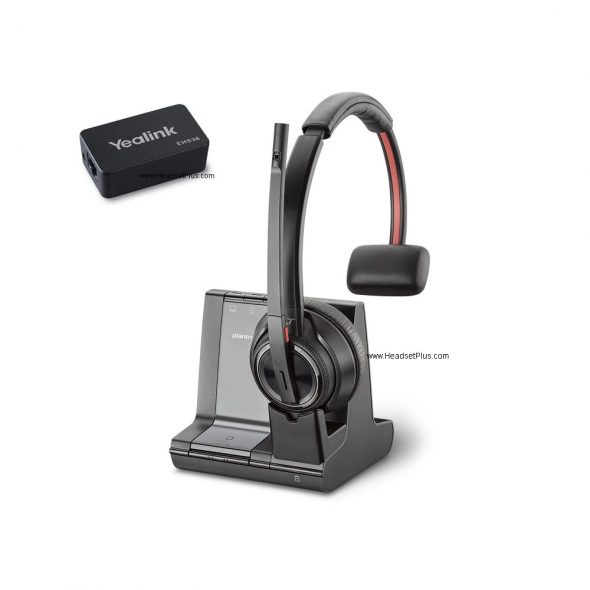 The Plantronics Savi 8210 is one of the newest editions to the Plantronics wireless headsets. It has great wireless range, great talk time, and great noise canceling. When talking about noise canceling this headset has great noise canceling microphone. This headset will allow you to connect to 3 devices simultaneously. You can connect it to a desk phone, computer, and a Bluetooth device. This headset also comes with remote answering. If you're away from your desk, your headset will ring and you can answer and end calls remotely. You have around 13 hours talk time and 590ft wireless range line of sight. Fantastic headset all around. Buy it now
These some of our top rated Yealink compatible headsets.  There are of course many more to choose from.  You will be very happy with the ones we have recommended.  If you have further questions regarding these Yealink headsets or like to explore other Yealink headsets, call HeadsetPlus.com at  877-999-3838, we can help you choose one.