Today we will review some the available Bluetooth headsets that are compatible with desk phones. Please make sure that there is a difference between Bluetooth headsets and wireless DECT headsets, which we will address below.
Wireless DECT is not the same as Bluetooth wireless, DECT has a further range while Bluetooth has less range, on DECT is designed to be used only with select desk phones, while Bluetooth originally was intended for cell phones, however with the advances in technology, they were able to make Bluetooth headsets compatible with smart phones and desk phones.
For the same reason the following headsets offers you the capability to use one single headset with different devices without the necessity to change to different headset during work time, and allows you to take the headset down the road, perfect solution for a the Road Warrior.
Poly Voyager 4210 Office Bluetooth Mono Headset 2-Way Base USB-A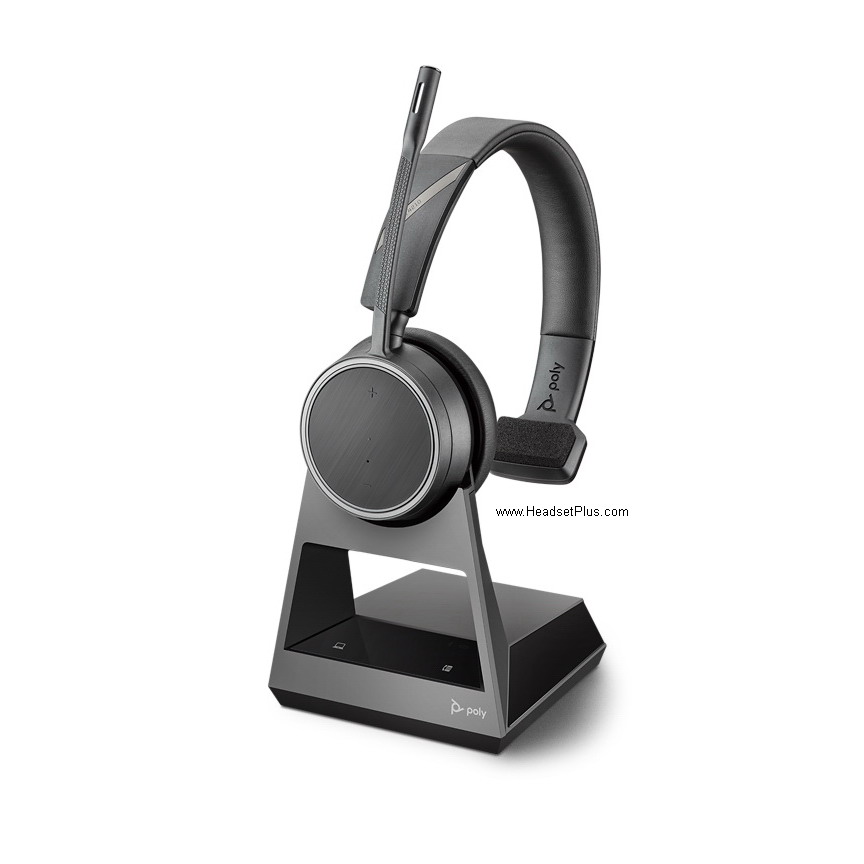 Poly (formerly known as Plantronics) brings it into the game with this entry system. The Voyager 4210 Office, offers a range of up to 300 feet on line of sight due being a Class 1 Bluetooth. Covering one ear un an over the head wearing style, noise canceling microphone that can block up to 60 % of the users background noise. Multi connectivity thanks to its base, meaning that can be used with the computer (USB-A), with any corded desk phone and with your smart phone via Bluetooth. An impressive talk time of 12 hours and 13 days of stand by, easy to find volume controls and answer/end call into the ear cup of the headset. Built in Amazon Alexa and Tile support, making it easy to find if needed. Get yours HERE.
Poly Voyager 4220 Office Stereo UC Bluetooth Headset 2-Way USB-A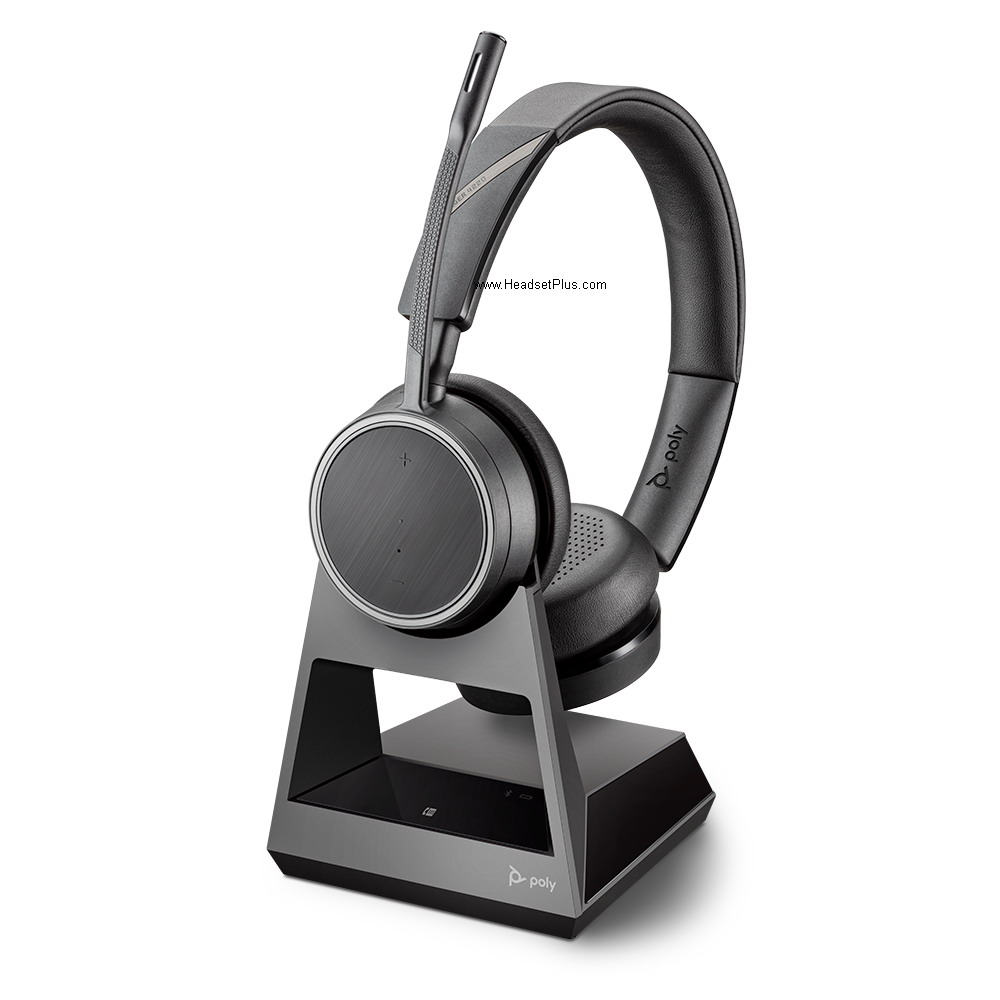 Poly offers the rich Hi-Fi sound on the Voyager 4220 Office Stereo, thanks to the covering of both ears, this headset is a nice option for people wanting a multi connectivity headset, as it offers triple connectivity, as it can connect to a desk phone, computer (USB-A) and smart phone (Bluetooth). As the younger sibling, it offers a talk time of up to 12 hours and the impressive standby time of 13 days. Easy to find volume controls, answer/end call and a discrete busy light. The well known Noise Canceling microphone from Poly a.k.a. Plantronics and voice alerts announces remaining talk time and connection status, fully customizable thru the Plantronics Hub. Order yours HERE.
Poly Voyager 4245 Office Convertible Bluetooth Headset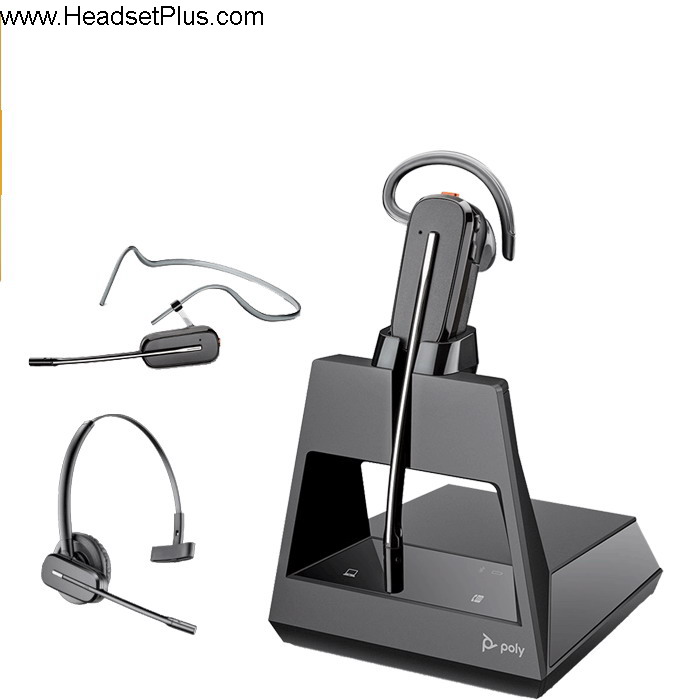 The next step up in the food chain from Poly comes in the shape of the Voyager 4245 Office, this headset is the best solution for users wanting a light weight headset. Offering a convertible style, so it can be worn over the ear, over the head or behind the neck, the 4245 comes with all those wearing styles. Offering the user to switch at will, multi connectivity as can be used with the computer, desk phone or smart phone. SoundGuard Digital is found in this headset, that protects the user for high pitched sounds. A nice feature of this unit is that it comes with an extra battery and charger as it is a Unlimited talk time with a hot swappable battery, allowing the user to change batteries even in the middle of a call without dropping the call or hanging up. Get yours HERE.
Plantronics Voyager 5200 Office Bluetooth Headset 2-Way Base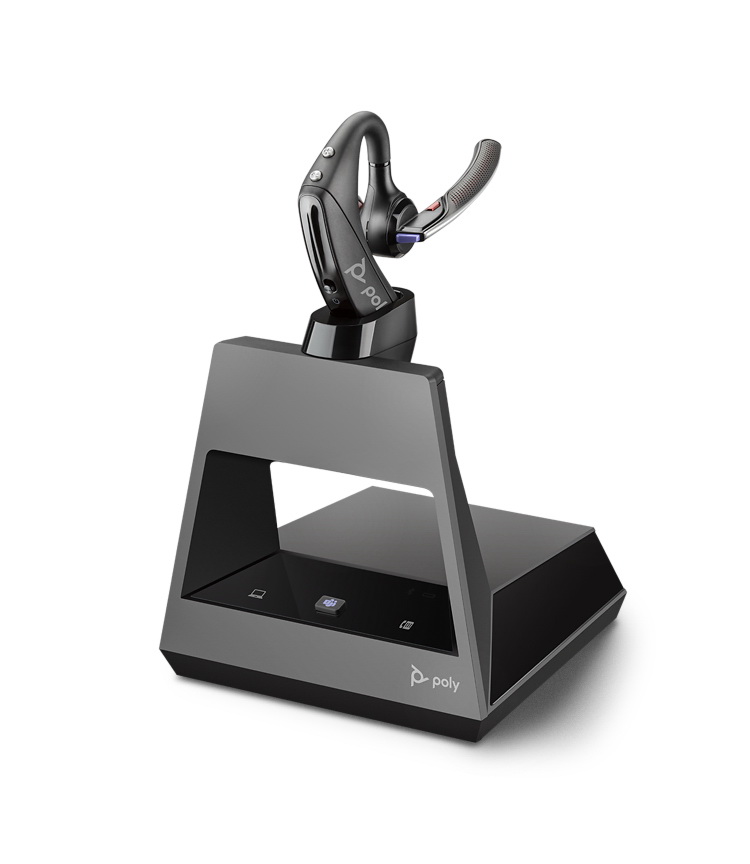 Plantronics took the best of the design of the veteran CS530 and created the Office 5200, an over the ear only wearing style headset. Multi connectivity to desk phones, computer and smart phone available. Headset can be worn in either side, right or left, Class 1 Bluetooth headset with a range of up to 250 feet on line of sight, 7 hours of talk time and 9 days of stand by. WindSmart technology, that helps to block most of the sound coming from wind when the headset is worn outside and with P2i coating, that makes it moisture resistant. With a barely weight of 20 grams, making it the lightest headset in the market, get yours HERE.
Poly Voyager Focus 2 Office USB-A Bluetooth Stereo Headset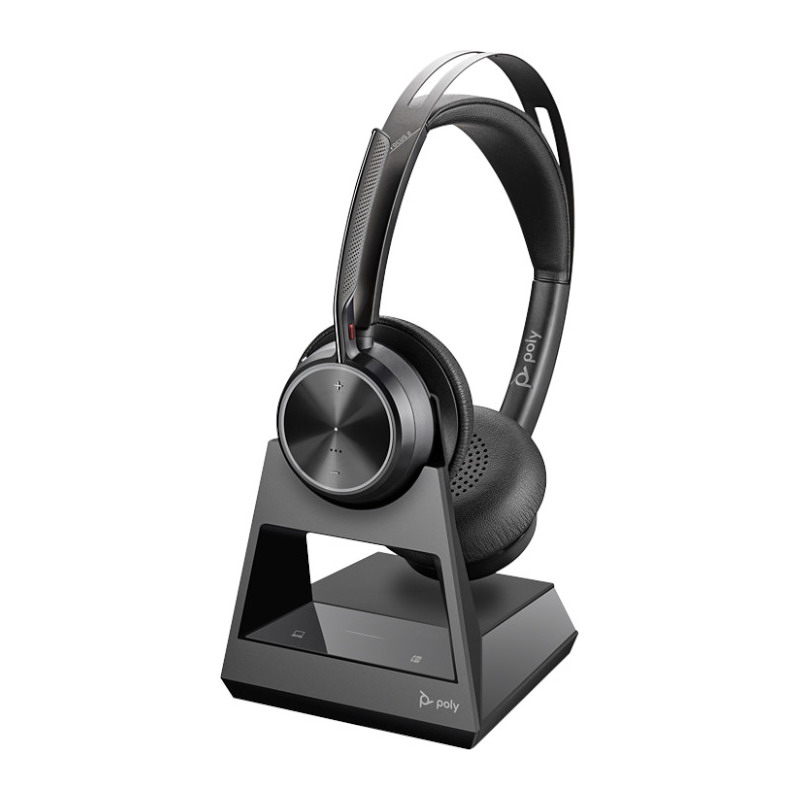 The latest addition to the next generation of Voyager headsets, the Focus 2 offers Active Noise Canceling with 3 different levels, so the user can adjust the amount of Noise Canceling depending the environment. Smart sensors know when the headset is on or off, so the user can answer a call by simply putting the headset on. Mute function by bringing the microphone boom up, a nice feature for people that need to mute the microphone in a faster and more intuitive way. Class 1 Bluetooth headset with a range of up to 300 feet and multi connectivity, allowing the user to use this with a desk phone, computer and smart phone. Busy light built in both ear cups allowing the user let people know when its on a call. Intuitive call controls built in to the ear cup, the Focus 2 Office allows the user to either wear the headset with the mic boom on right or left side. Get yours HERE.
Jabra Pro 935 MS Dual Connectivity Bluetooth USB headset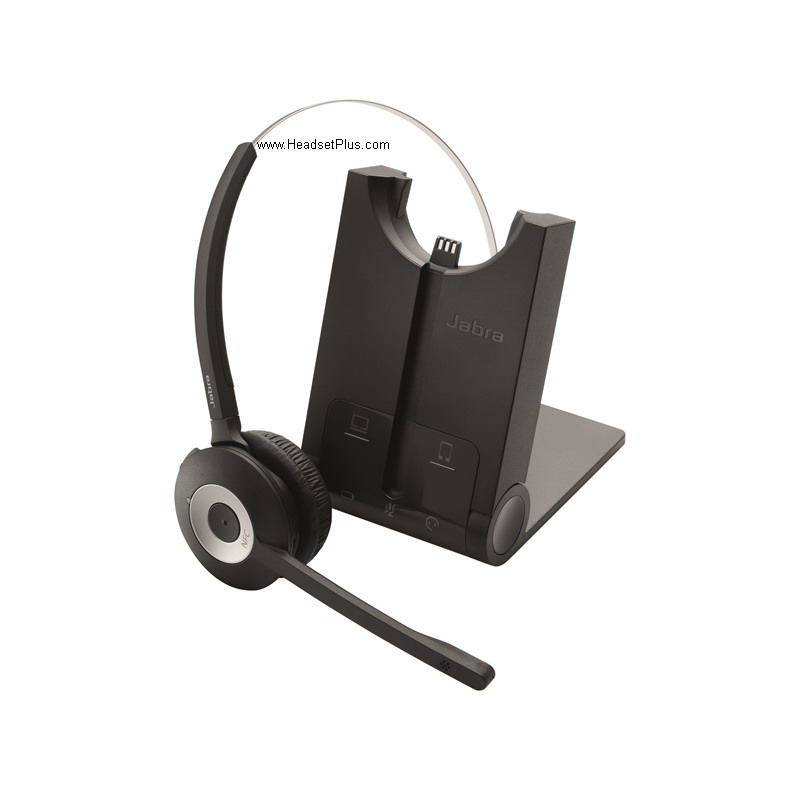 Jabra offers the Pro 935 headset, allowing the user to use this headset with a computer via USB-A and a smart phone via Bluetooth. HD Voice Wideband Audio, offers the best quality for a crystal clear conversation. Talk time of up to 12 hours and 7 days of stand by, Class 1 Bluetooth with a range of up to 300 feet on line of sight. Near Field Communication Technology, allowing the user an easy pairing by simply having the device near proximity to one other. This headset is a convertible style, can be worn over the ear or behind the neck with the optional ear hook and neck band sold separated. Selectable auto sleep mode function, that puts the headset in sleep when the headset is inactive for a longer period of time. Order yours HERE.