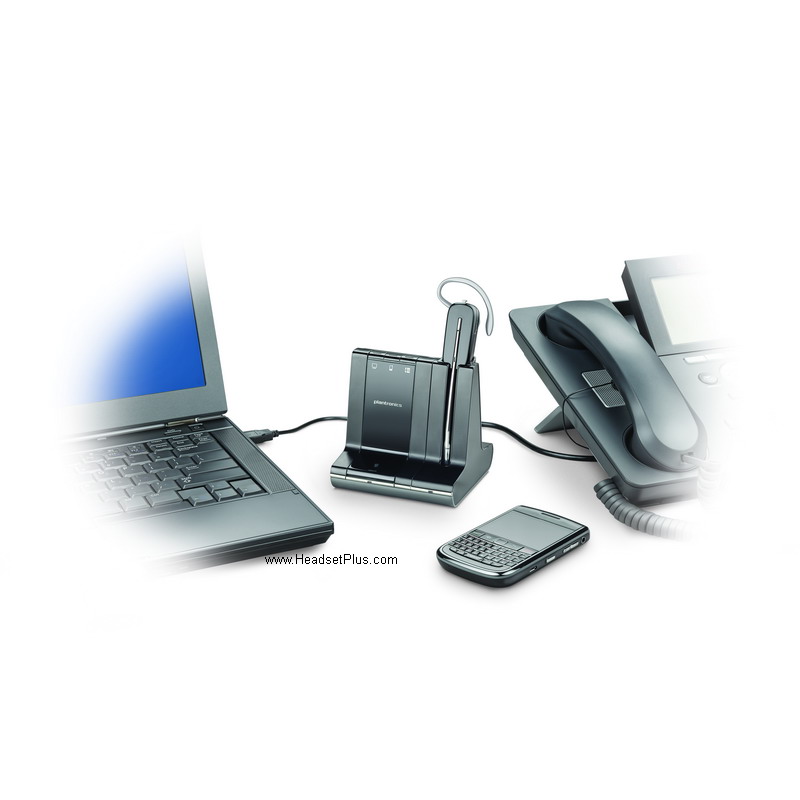 Headsets for both desk phone and computer (and cell phone)
With the increasing number of software that communicates over the internet (VoIP soft phones), such as Skype, Microsoft Lync, Skype for Business, etc, this is one of our most common questions we get from our customers.  "do you have a headset that will work both with a desk phone and a computer?"  The answer is YES!  Here are few of our top rated dual connectivity headsets, both in the corded and wireless models.
Corded Headset:
1) Jabra Link 860 Digital Amplifier  + any Jabra QD Headset
The Jabra Link 860 is an amplifier that can be attach and toggled back and forth between a PC and a desktop telephone.  It comes with a USB cable that connects to a computer as wells an office phone.  You can switch between and computer and deskphone by a flick of a switch on the Jabra Link 860, it's that simple.
2) Plantronics MDA100 QD Analog Switch + any PLANTRONICS QD HEADSETS
This is Plantronics version. The Plantronics MDA100 provides a switch between PC computer and your deskphone such as Cisco, Avaya, Polycom, etc.  Compatible with all major desk office phone. The MDA100 comes with a USB cable, a RJ-9 cable with a Quick Disconnect (QD) connection to attach with any PLANTRONICS H-SERIES HEADSET. When attached to the PC, it's compatible with most major soft phones from Microsoft, Avaya, and Cisco.
3 ) Plantronics MDA524 Corded Switcher/Mixer for QD Headsets + any PLANTRONICS QD HEADSETS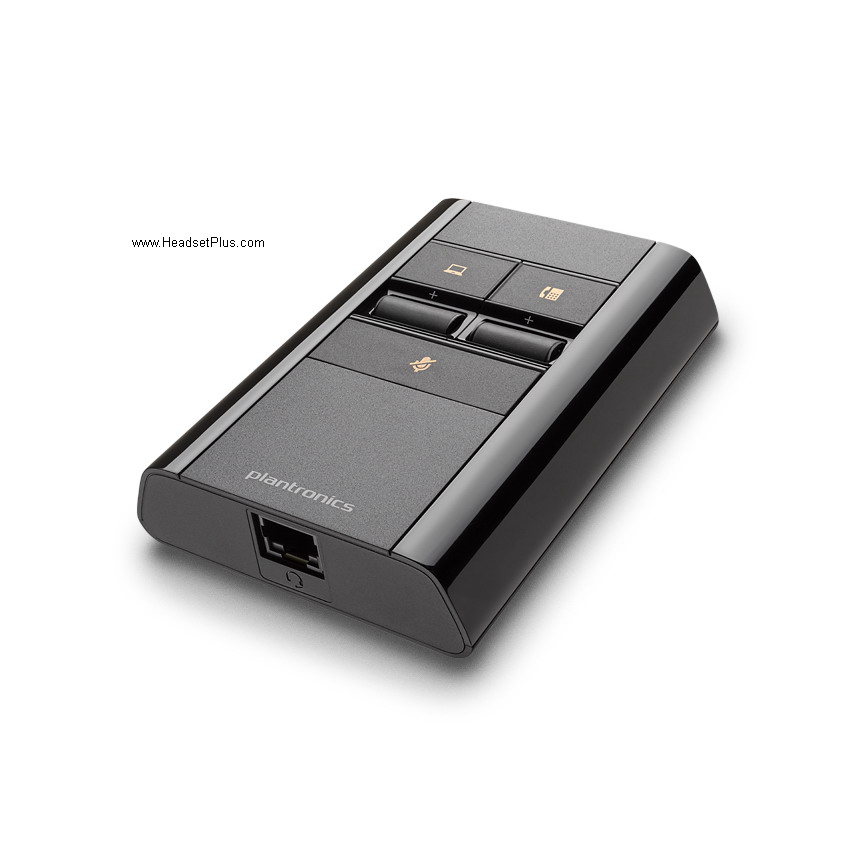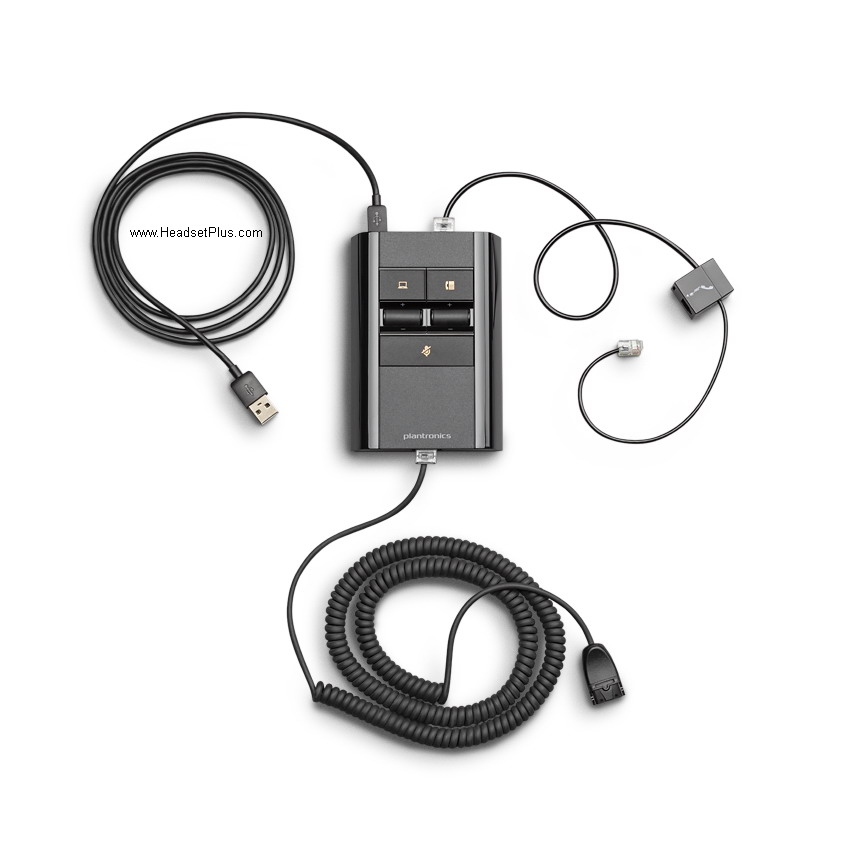 Plantronics offers its new MDA524 switcher/Mixer which is a big jump from the MDA 100, this particular unit allows the end user to plug any Plantronics QD with 4-pin into a computer and a desk phone, and modulate the volume from each device independently. Another nice feature of the MDA524 is that it allows you to record phone calls and even audio mixing, for this you will require a 3rd party Windows application and Plantronics Hub. Among others you can Agent greeting, create voice notes and stream audio as well. The Plantronics MDA524 is fully Windows and Mac compatible. Order yours HERE.
Wireless Headsets:
Plantronics Savi 8220 Wireless Headset Binaural Savi 8200 series (deskphone, PC, cell phone)  <= staff favorite
The Plantronics Savi 8220 is the newest of the multi-connectivity wireless headset.  It's also the most advanced headset Plantronics has ever engineered.  It has the ANC "active noise canceling" in the speakers to block out the noise in the office, so you can focus.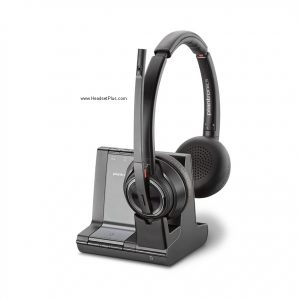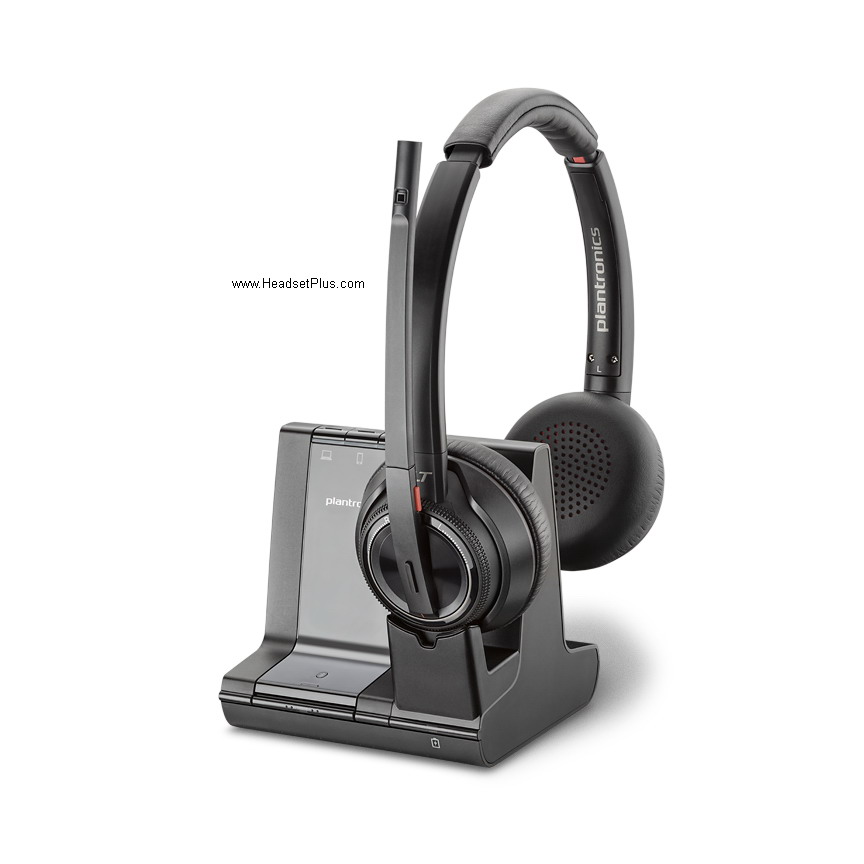 No other Plantronics desk phone headset has this feature until now.  Like the other wireless headsets, is has the noise canceling microphone to block out the noise for your caller on the other end.  In addition, when fully charged, the battery can last up to 13 hours on a single call (50 hours of standby time).  You can travel up to 590 ft in the perfect environment.   When we tested, we go about 150ft in our office since we have many walls, machines and cubicles.   It has soft leather ear pads so it feels very comfortable for all day wear.  Solid  construction, it doesn't feel like it's going to fall apart for many years to come.  Like the other Plantronics Savi models, you an easily switch between your desk phone, computer and mobile phone with a press of the button on the base.  Of course also listen to stereo music when you're not on the phone.  This headset is by far my favorite of all the ones I tested.  You can go HERE to ORDER
Plantronics Savi 8240 Office Convertible Wireless Headset (desk phone, PC, cell phone)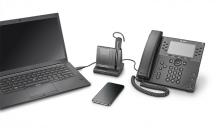 The Plantronics Savi 8240 Office Wireless Headset is one of my favorites that I use at my office.  It's a "triple connectivity" wireless headset.  It not only attach to your desk phone, it can also attaches to your computer (via USB cable) and smartphone, like a Apple iPhone (via Bluetooth in the base).  So when you're in the office, you can use the same wireless headset for your desk phone, computer or cell phone – without having to switch headsets.  The only catch is that you cannot take the wireless headset with you and use it in your car.  The wireless headset itself is not Bluetooth. the Bluetooth signal comes from the base of the Savi 8240, not the headset.  Also, you must leave your cell phone near the base for the wireless headset to work (Bluetooth only has a 30ft range).  It can be customized for different ring tones so when your phone (desk phone, soft phone, or cell phone) rings, so when the phone rings, you know which one is ringing when you're away from your desk. Offering a new and improved range of up to 590 ft on line of site, thanks to its wireless DECT 6.0 technology. In addition, you can also record your telephone calls with the Plantronics Savi series wireless headset.  See our Blog HERE about wireless headset recording.
Jabra Engage 65 Mono Wireless Headset System (deskphone & PC only)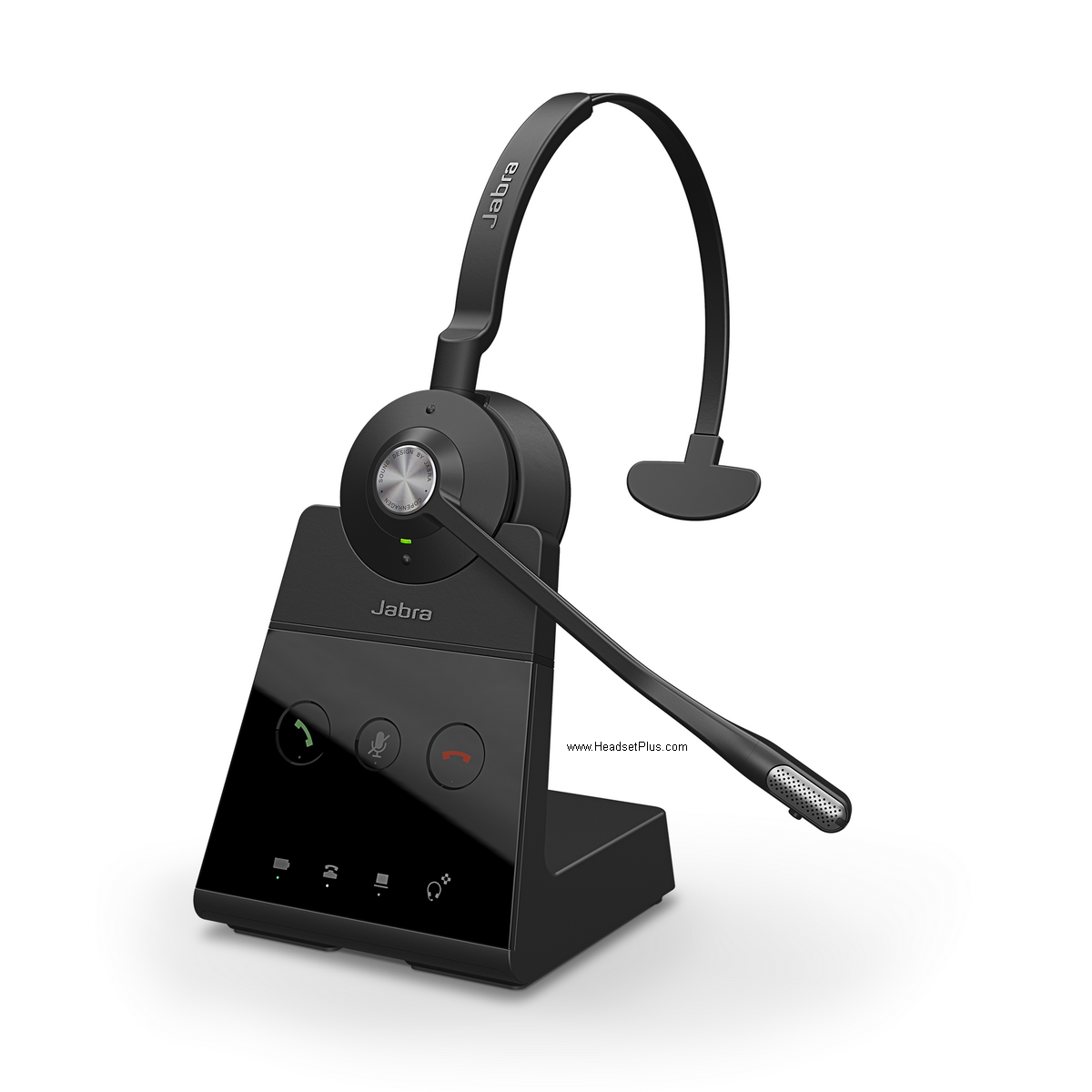 Jabra Engage 65 Mono is a replacement of the Jabra Pro 9450. Offering dual connectivity, improved wireless range on up to 490ft. It attaches to both office phone and a PC (via USB port). You can switch between deskp hone and computer using the buttons on top of the Jabra Engage 65 base and answer/end calls either from same base or from the headset, which gives you diversity on use of it. When fully charged, the headset has 13 hours of talk time, 52 hours of standby.  Enough the get you through any business day without needing to re-charge.  It has all the features you would expect from a wireless office headset – noise canceling microphone, 400ft range, multiple wearing styles, and digital signal processing.  Go HERE to ORDER
Jabra Engage 75 Mono Wireless Headset (deskphone, PC, cell phone)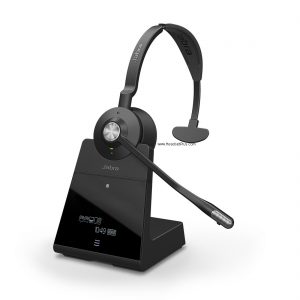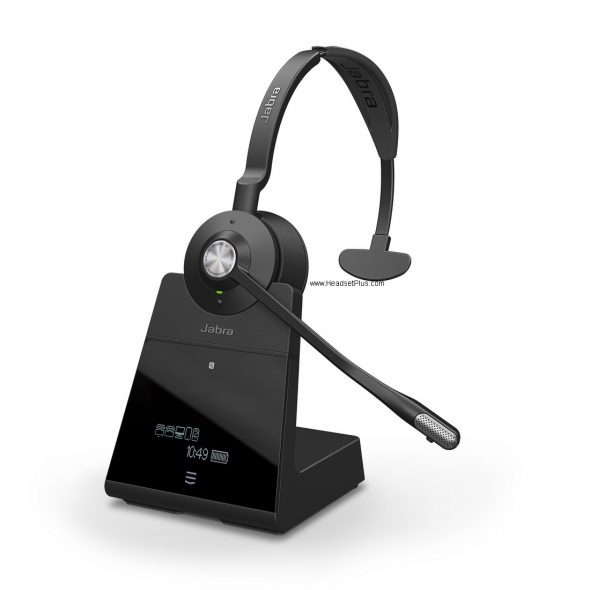 The Jabra Engage 75 is my second favorite. Like the Plantronics Savi series, it's also a "triple connectivity" wireless headset, it comes with all the cables to connect to desk phone, computer and a cell phone via Bluetooth from the base.  In addition, it has a touch screen display that will show you the current connection,  Making it very user friendly.  It has state of the art noise blackout technology to reduce background noise in the office.  The audio transmission is digitally encrypted for secure conversation. Like the Plantronics Savi, the Bluetooth signal is also from the base, so you cannot take the headset with you and use it as a Bluetooth headset.  Like the Plantronics Savi 700 series, you can also use the Jabra Engage 75 to record telephone calls.  Go HERE to ORDER.  Also see instructions Here on How To Record Telephone Calls with a Plantronics Wireless Headset
Poly Voyager 4245 Office Convertible Bluetooth Headset
Poly offers the new 4245, which takes the well know design of the CS540 headset including the versatility of switching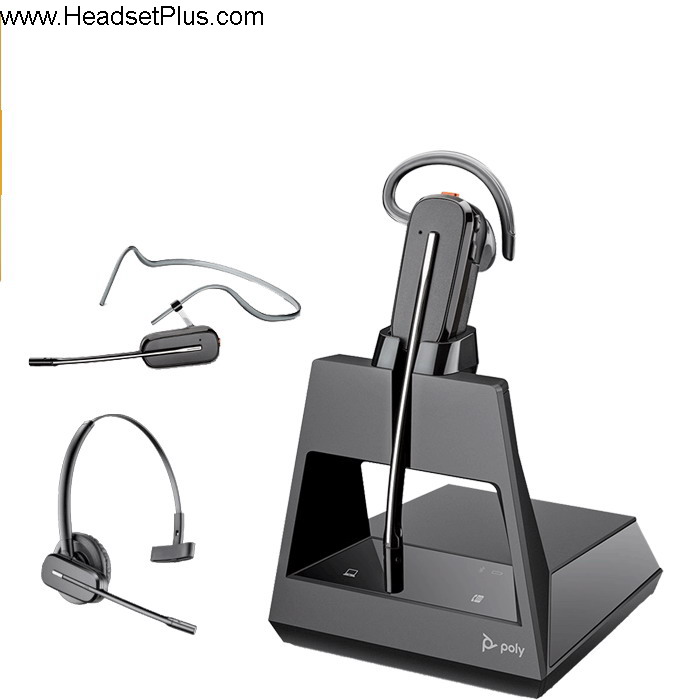 from headband to neckband to ear hook, in this case this headset can be used with any desk phone, with a computer via USB-A and with your cell phone, the difference between the 4245 and the Savi 8240 mentioned before is that you can take the headset with you and keep using it with your cell phone down the road, this is because this unit is a Class 1 Bluetooth headset. Another of the nice features of the 4245 is that is considered an Unlimited Talk time headset with a hot swappable battery, this means that the headset comes with an extra battery and an extra charger as you can take the headset with you makes it convenient to have extra power on it and in the event that you run out of power you can replace the battery even in the middle of the call as the headset will give you some time to put the fully charged battery without dropping the call. Get yours HERE.
Poly Savi 7310 Office Wireless Headset Mono, deskphone and PC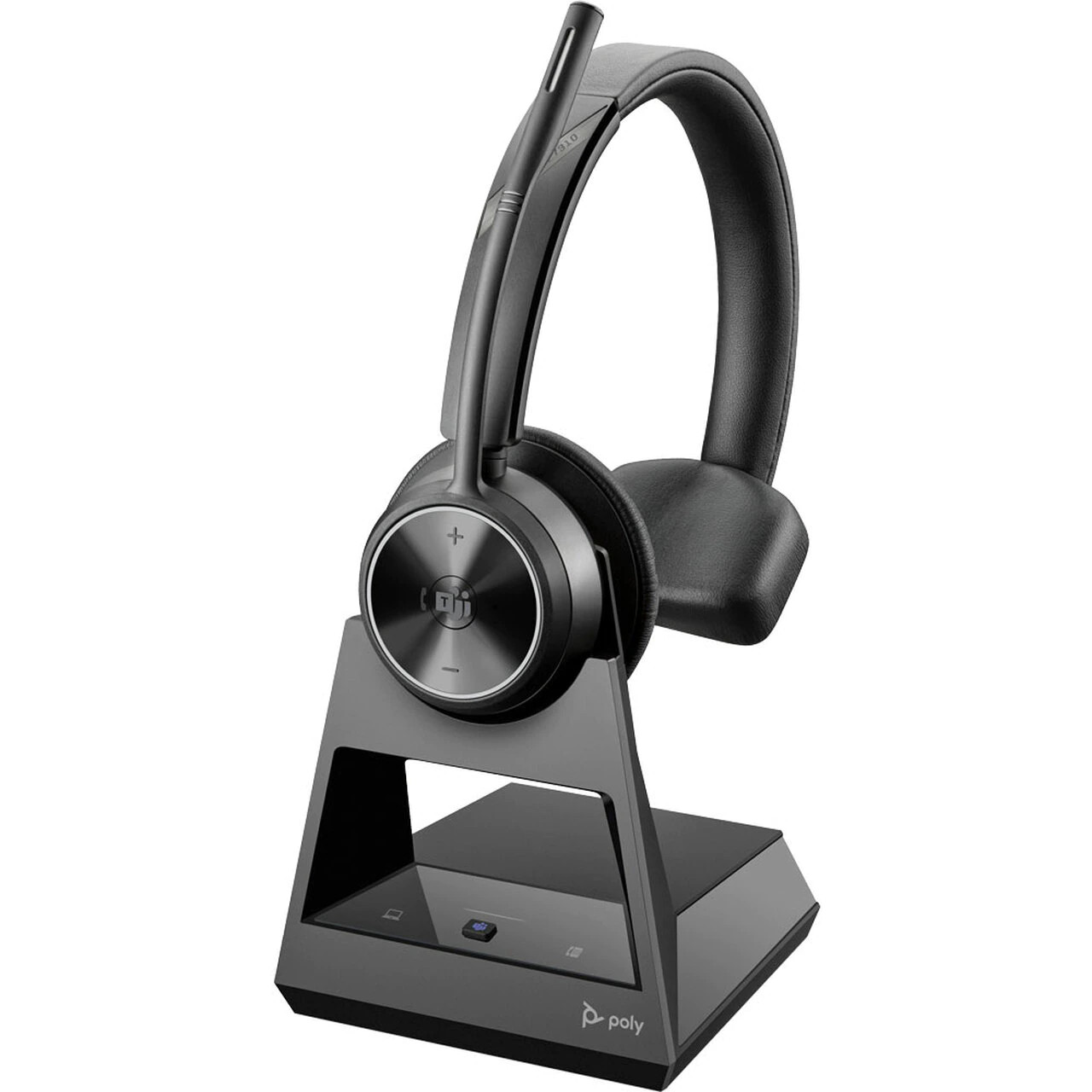 Poly offers the new Savi 7310 Office, this is a wireless DECT headset that can be used with any desk phone and with virtually any computer as it comes with USB-A and USB-C connectors. One of the nice features of this particular unit is the 256 bit AES encryption, which is the highest DECT security level with Military level FIPS 140-2 required for some government agencies and medical field. Thanks to this feature it allows the 7310 up to 2 times more of density than other DECT headsets which translate in having the double of the 7310 in one small location without affecting the performance of the others, which is totally appreciated in call centers with high density. With an outstanding range of up to 580 feet on line of sight, making it a nice option for further range as well. Microphone boom with noise canceling microphone enhanced with Poly Acoustic Fence technology that meets the Microsoft Teams specifications. Get yours HERE.
Poly Voyager Focus 2 Office USB-A Bluetooth Stereo Headset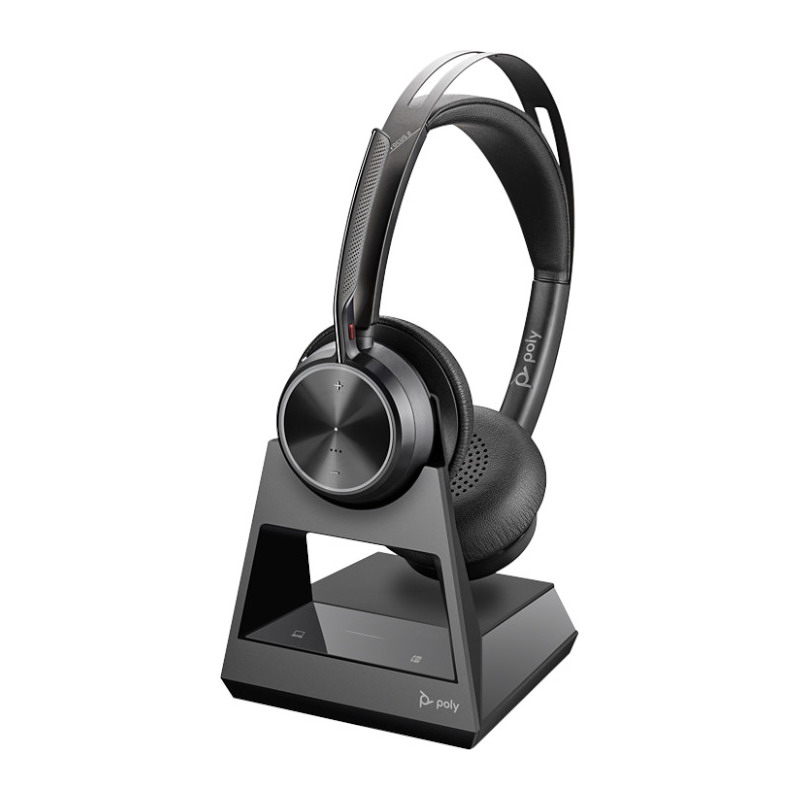 Poly offers its new Focus 2 in a new variant, the Focus 2 Office, that allows you to use it with any desk phone, computer via USB-A and with your cell phone. In this case the Focus 2 is a stereo headset covering both ears, with Active Noise canceling speakers with a new and improved Digital Hybrid ANC technology, that allows you to adjust the level of ANC required depending on the place you are. Microphone boom arm that can be worn on either side and maintain location of either side. We can find the Acoustic Fence in the microphone as well, as it uses one microphone facing the outside in order to level of background noise and focus on the voice of the user making it more crystal clear. Rotate boom up and you can mute the microphone, and down to unmute. Smart sensors that allows you to answer a call by simply putting the headset on and pause music or mute by taking it off. Built in Busy Lights on both sides that allows the user to let people know when on a call as their are visible from any angle, and with a range of up to 300 feet on line of sight thanks to its Class 1 Bluetooth connectivity. Order yours HERE.
Poly Voyager Focus 2 Features:
There are few more models, but not possible to mentioned them all.  But these are the top rated headsets for desk phone and computer.  Call our headset experts at 877-999-3838 if you have any questions regarding these headsets or any other Plantronics or Jabra headsets