Plantronics/Jabra Hearing Aid Compatible (HAC) Headsets for office phone and computer soft phone: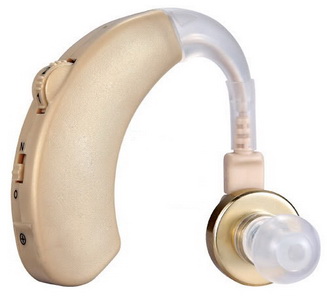 Almost 16% of adults suffer from hearing loss. In Europe about 71 million of the working population have a hearing loss greater than 25 dB.  Here's how HeadsetPlus.com can help:
Many hearing aids today have EIA 504 standard telecoils (some refer them as t-switch or t-coil). Telecoils are used in place of the microphone to pick up sound from magnetic source such as a telephone handset. Telecoils also eliminates feedback and reduces background noise. All landline phones (and some cell phone) are required by law to be Telecoil compatible.
Plantronics EncorePro headsets model HW510, HW520 are special headsets fitted with HAC Telecoil speakers and, therefore, they emit very high levels of magnetic energy. These headsets are compatible with BTE and ITE aids providing, of course, they have telecoils built in.
Plantronics Corded Hearing Aid Compatible (HAC) Headsets:
Plantronics H251H, H261H HAC headsets are being discontinued – see new models below:
Plantronics HW510V EncorePro VoiceTubeBuilt with special hearing aid compatible magnetic speakers and, typically, will work better with tele-coil (T-coil) hearing aids.  It's the direct replacement for Plantronics H251H.  You can Order it HERE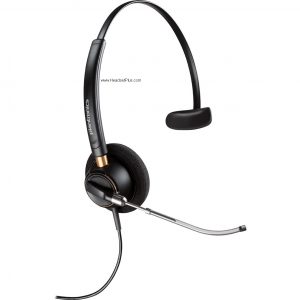 Plantronics HW520V EncorePro Binaural VoiceTube Headset Engineered with special HAC speakers and dual speakers, typically, will work better with Telecoil (T-Coil) hearing aids.  HW520V is a direct replacement for the previous model Plantronics H261H.  You can order it Here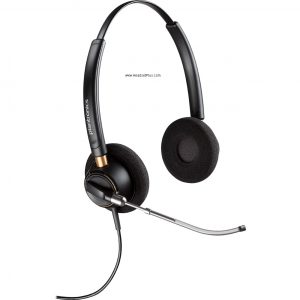 Plantronics HW510 EncorePro 510 Noise Canceling Headset
The Plantronics HW510 the same headset as the HW510V, but with a noise canceling microphone to block out the unwanted office noise.  HW510 also equipped with the HAC magnetic energy speakers that support T-coil hearing aids.  Order it Here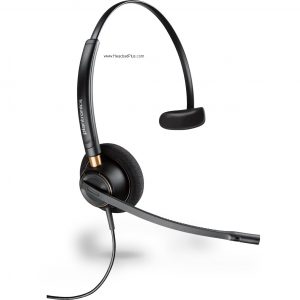 Plantronics HW520 EncorePro Noise Canceling Binaural Headset – (my recommendation)
HW520 is the binaural (dual ear) version of the EncorePro Hearing aid (Telecoil) compatible headset.  I highly recommend the binaural model for anybody wearing hearing aids as it has two speakers for both ears and a noise canceling mic.  Order it here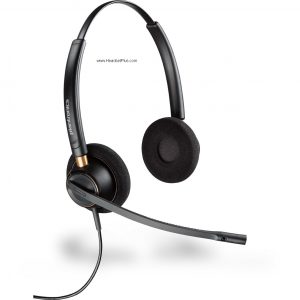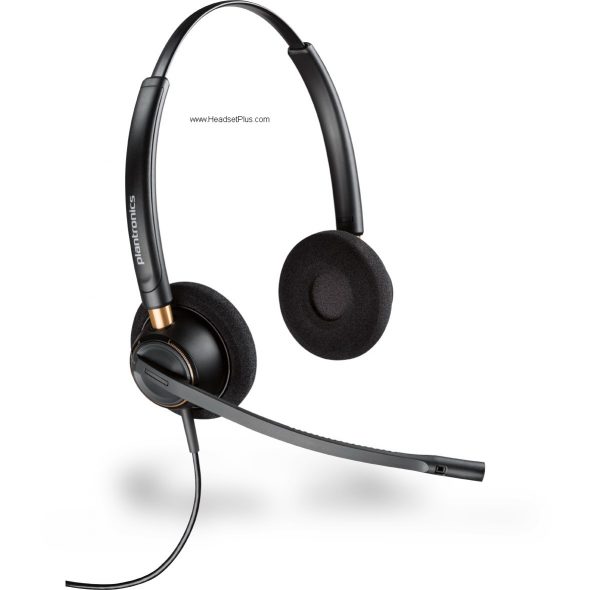 If you're in the noisy office, we recommend you add Plantronics Circumaural Leather Ear Cushions, so the headset "surrounds" your ears, the end results of the Plantronics HW520 looks something like this:
Note: These Plantronics headsets require the Plantronics M22 Vista amplifier to work (except for the phones with headset jacks, which only require a Plantronics bottom cable, call for compatibility).
WIRELESS
The newest Plantronics Savi 7210, Savi 8210 (single ear) and Savi 7220, Savi 8220 (dual ear) wireless headset are also Hearing aid (T-coil) compatible.  It has "active noise canceling" speakers on the Savi 8220 only to block out office noise so you can focus on your phone call as well as noise canceling microphone so the caller on the other side can hear clearly you without all the background noise. The Savi 8210 and 8220 can be used for 3 different devices (desktop phone, computer, and Bluetooth cell phone), switch between the 3 devices easily with push of a button.  Plantronics, Savi 7210, Savi 8210, Savi 7220, Savi 8220 both are compatible to virtually any desktop office phone.  The Savi 8220 is also a great music headphone while you're in the office (stream either from the PC or your smart phone).
Plantronics Savi 8210 Wireless Headset Monaural, Savi 8200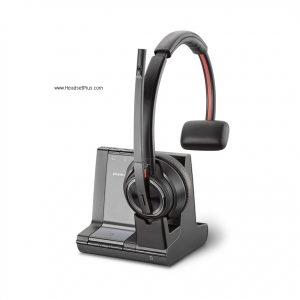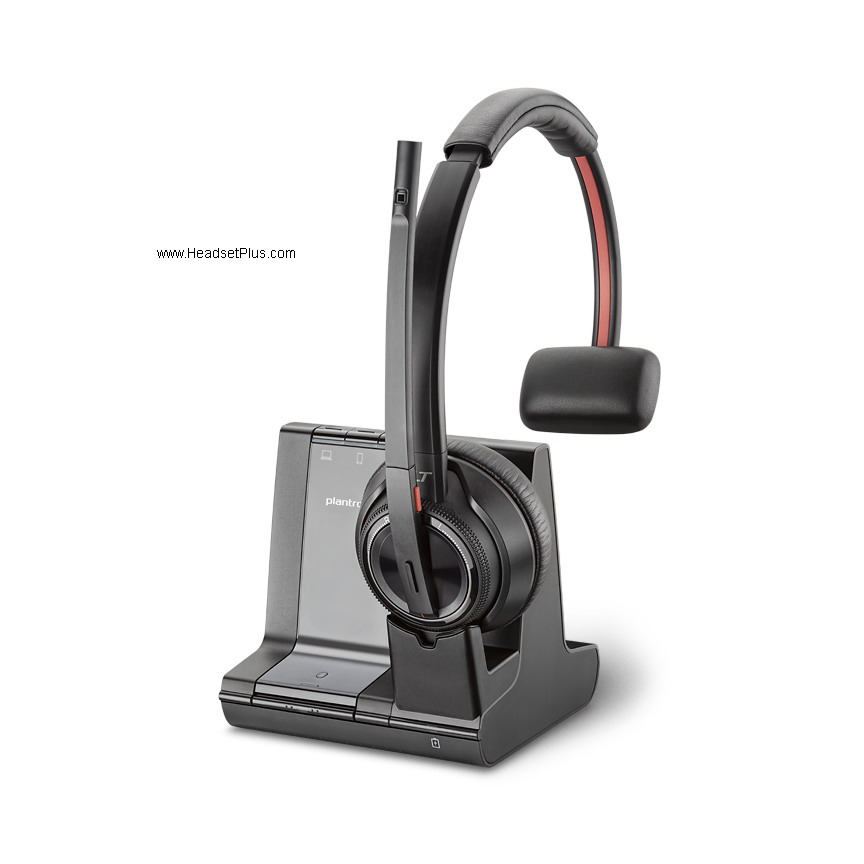 Plantronics Savi 8220 Wireless Headset Binaural Savi 8200 series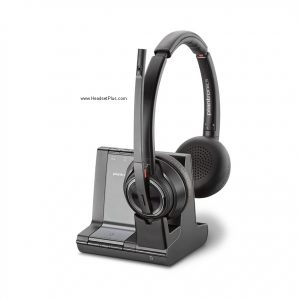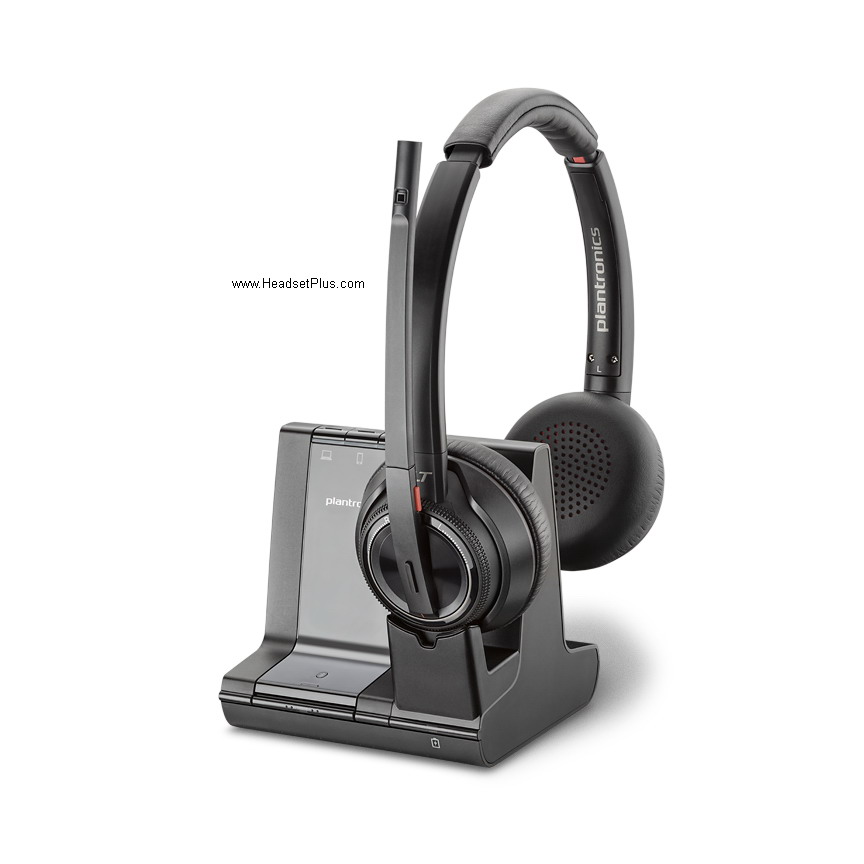 Poly (Plantronics) Savi 7210 Office Wireless Headset, Mono Style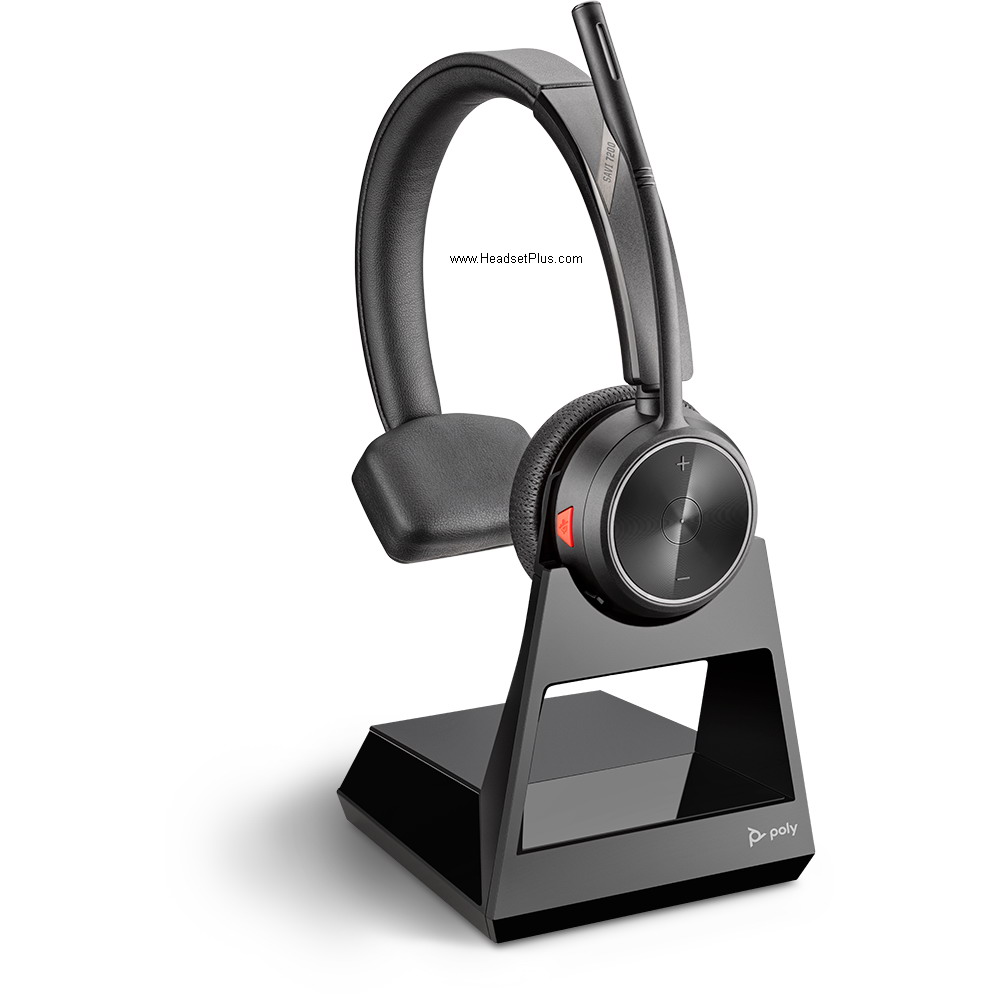 Poly (Plantronics) Savi 7220 Office Wireless Headset Stereo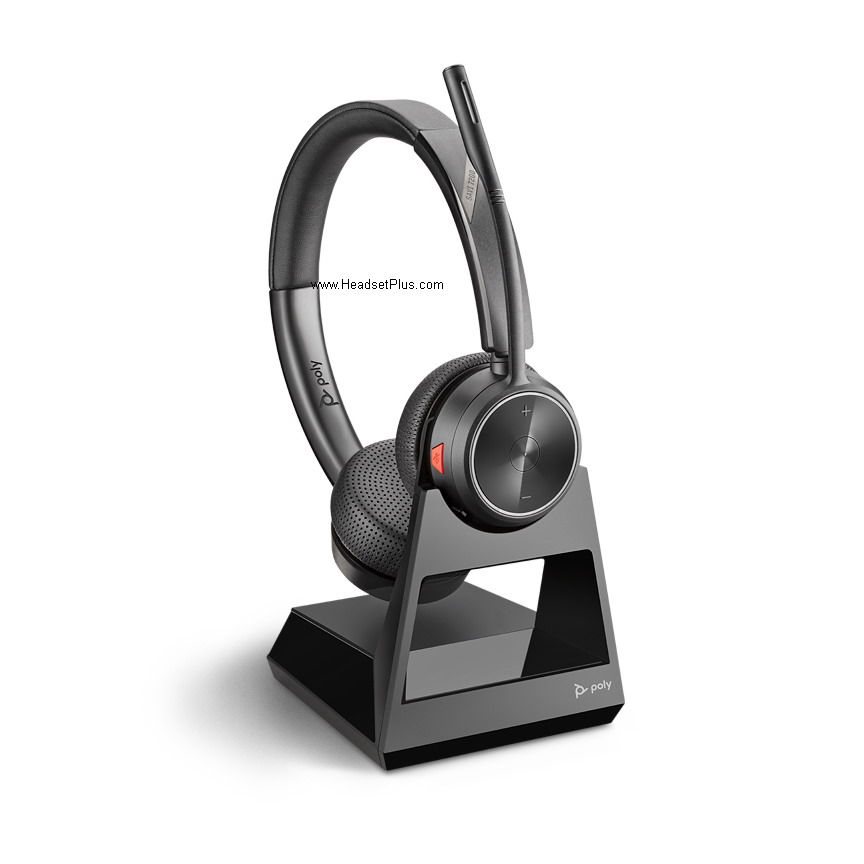 Other Plantronics Headsets are not HAC hearing aid compatible because they don't meet the EIA 504 standard and electronically incompatible.
Jabra/GN Corded Hearing Aid Compatible Headsets (Telecoil Compatible):
GN 2125 Noise Canceling Telecoil headset for Hearing Impaired – This is the only Jabra Telecoil hearing aid compatible headset.  It has a noise canceling microphone, where as the Plantronics models does not.  This headset can be seen here for more details.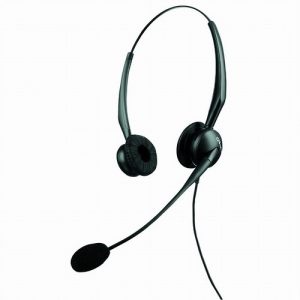 Note: Jabra headset require a GN Netcom 8000 amplifier (recommended). For telephones with built-in headset ports (ie Nortel, NEC, Cisco), an amplifier is not necessary, you only need the GN Netcom 1200 Smart Cord
Hearing Aid Compatible Computer/PC USB Headsets
If you work on a computer and use a softphone, Plantronics also makes Hearing aid compatible PC headsets with USB jack.
Poly EncorePro EP515-M USB-A, USB-C Headset MS Teams, HAC
The Poly EP515-M is also hearing aid telecoil compatible and it has composite material, making it very light and durable, only 52g.  Digital wide-band audio, so your voice transmission sounds more natural. Comes within in-line controls for volume, mute, etc.  Microsoft Teams certified, USB-A and USB compatible as it comes with the built in adapter to use it in either port.  Full 2-year warranty, very high quality.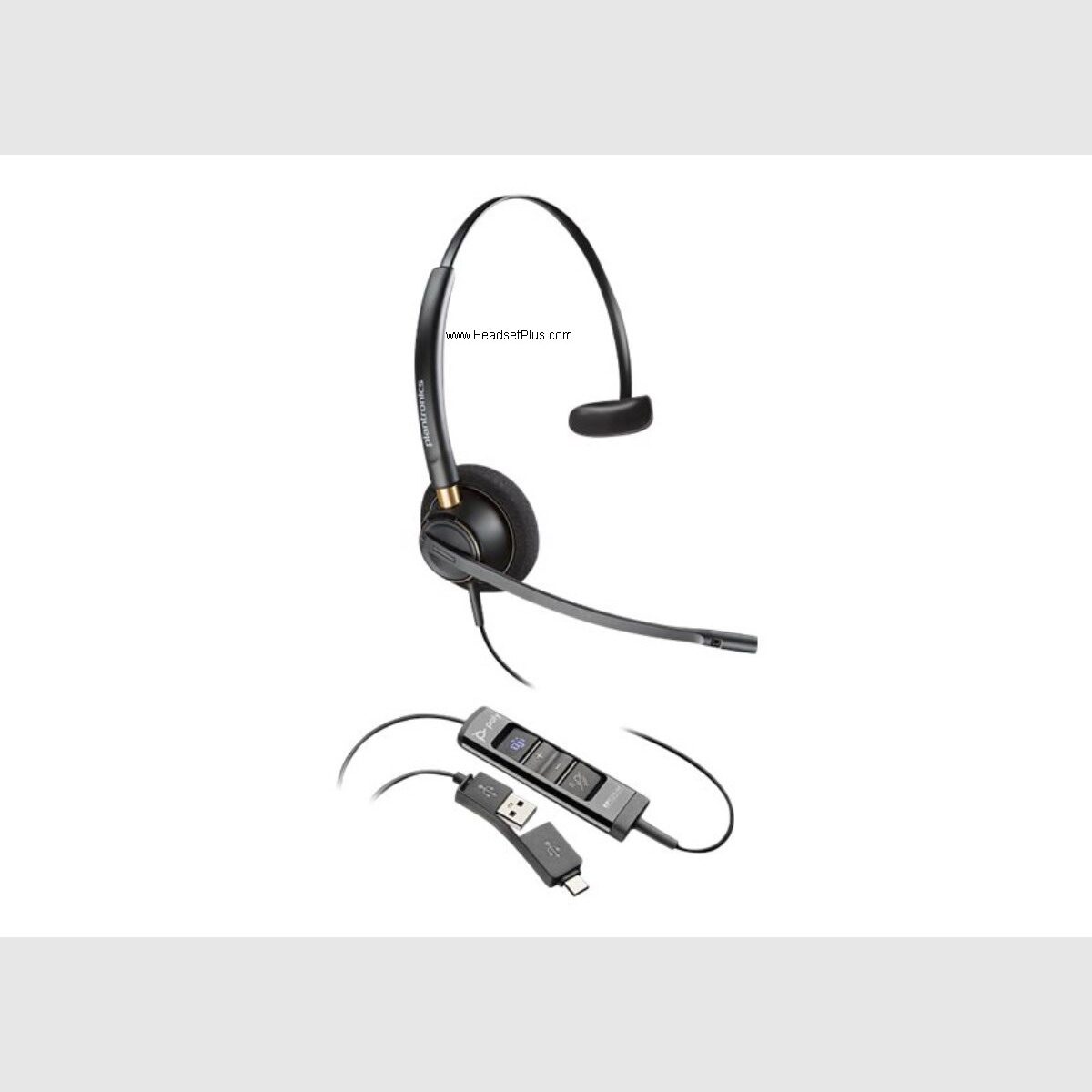 Poly EncorePro EP525 USB-A, USB-C Stereo Headset, HAC
Poly EP525 is the binaural (dual ear) version of the USB headset.  If you're in a busy call center. this headset cover both ears, so you can focus on the call.  It also has in-line controls to answer/end calls, volume, and mute.  Soft ear cushions for all day use.  Fully adjustable for a perfect fit, regardless of your head size.  Wideband "stereo" sound for your phone calls or even music when you're not on the phone. Comes as a USB-A headset and with a built in adapter to make it USB-C as well, so can be used on any computer or laptop no matter what.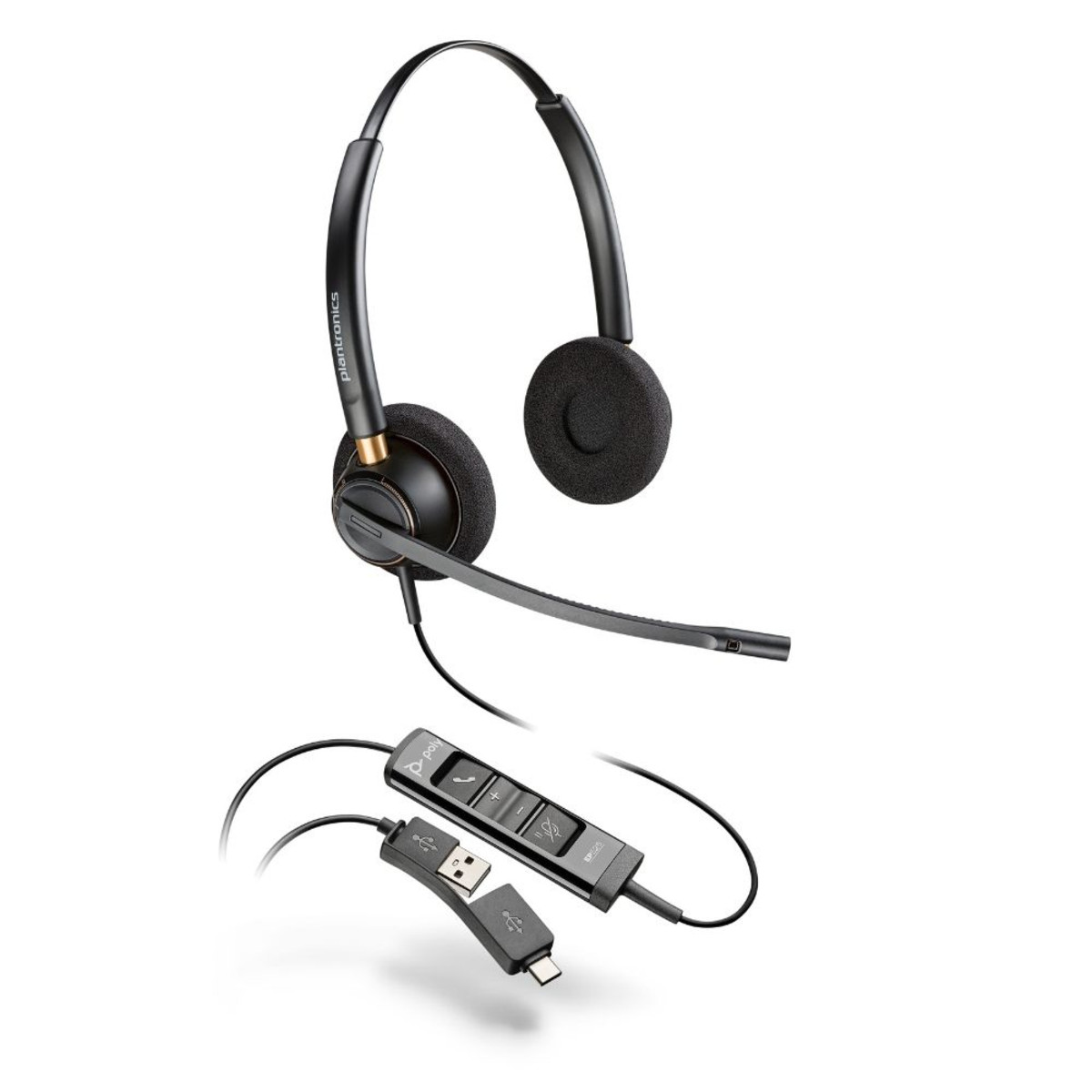 Plantronics C3220 Blackwire Stereo USB Headset MS Skype
Plantronics Blackwire 3220 is an affordable hearing aid HAC compatible USB Headset.  Super light weight for all day use.  Over the head "stereo" dual ear style. Wideband audio for best sound transmission.  Soft foam ear cushions.  Noise canceling microphone to block out unwanted background noise.  If you have a Macbook or PC/laptop with a USB-C port, there is the USB-C version of this headset also available:  Plantronics 3220 Blackwire USB-C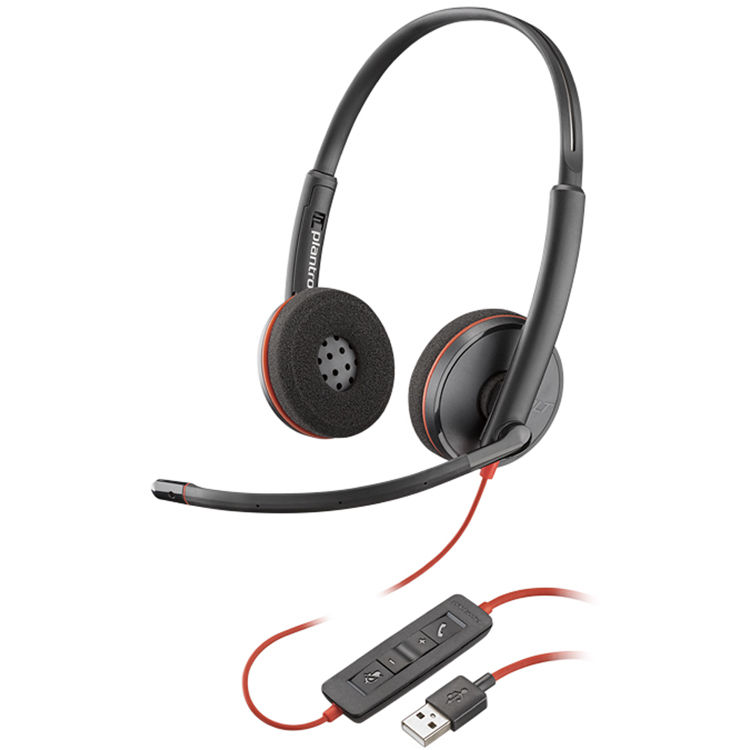 Plantronics Blackwire 5210 Mono USB, 3.5mm Headset, Microsoft Skype
Plantronics Blackwire 5210 USB Headset has it all.  It addition to being telecoil hearing aid compatible, The Blackwire 5210 is compatible with all major softphones, most smart phones (using the 3.5mm jack), and Microsoft Skype for Business certified.  It has in-line controls for volume, end/answer calls, and mute.  wide band audio for the most natural human voice.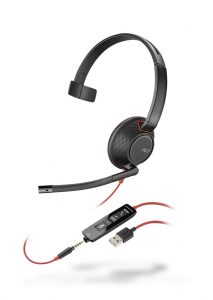 Poly 3320 Blackwire USB-A Stereo Headset
USB-C version:  Poly 3320-M Blackwire USB-C Stereo Headset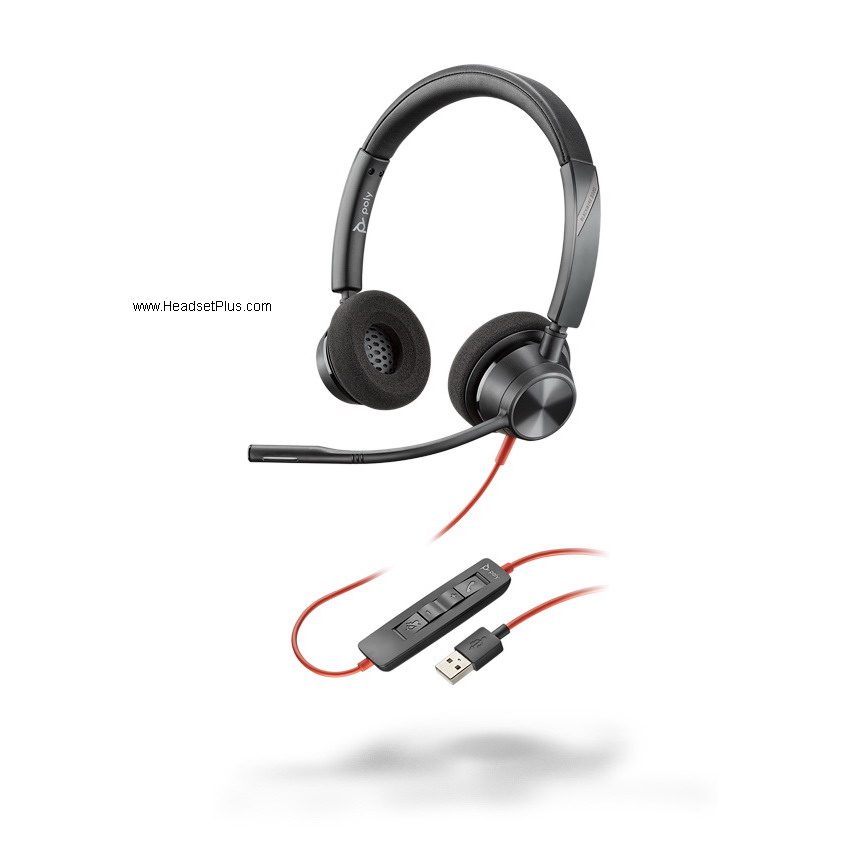 Plantronics Blackwire 5220 Binaural Computer USB with 3.5mm plug
The Plantronics Blackwire 5220 USB also t-coil hearing aid compatible.  It comes with a 3.5mm plug for use on most smart phones.  It's foldable and comes with carrying case easy for travel.  Microsoft Skype for Business certified and soft leather ear cushions for comfort.  It's one of most popular all round computer headset.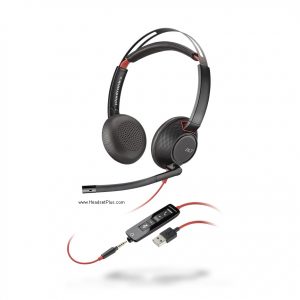 Poly Blackwire 8225 USB-A Stereo Wired Headset
Poly (formerly Plantronics) is the top of the line corded Blackwire 8225 USB computer headset. Also telecoil hearing aid compatible with most major brand telecoil hearing aids.  It has adjustable 180 pivoting speakers, so it be be folded flat for travel or storage.  Padded leatherette ear cushions for all day use.  ANC Active noise canceling speakers for blocking out background noise so you can focus on your phone call or work.  Built-in LED to alert others around you that you're busy.  It has it all, simply top of the line Poly USB headset on the market.  Also available is the USB-C version for Apple Macbook or Windows PC or laptop with USB-C jack: Poly Blackwire 8225 USB-C Stereo Corded Headset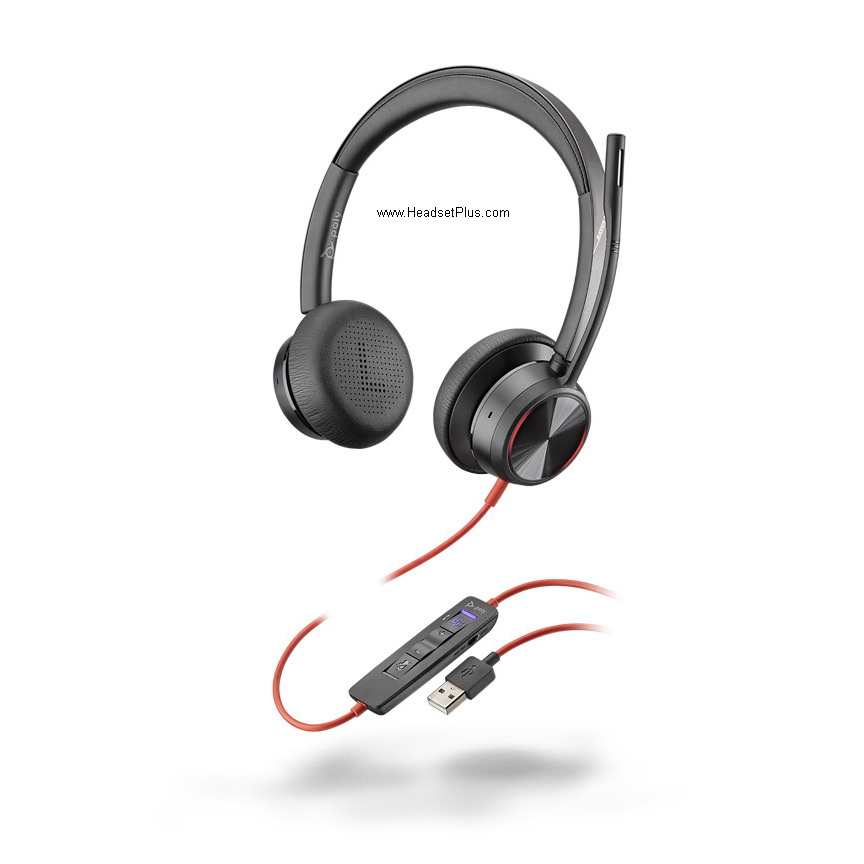 Wireless USB telecoil hearing aid compatible headsets:
Plantronics Savi 8210 UC Mono USB-A Wireless Headset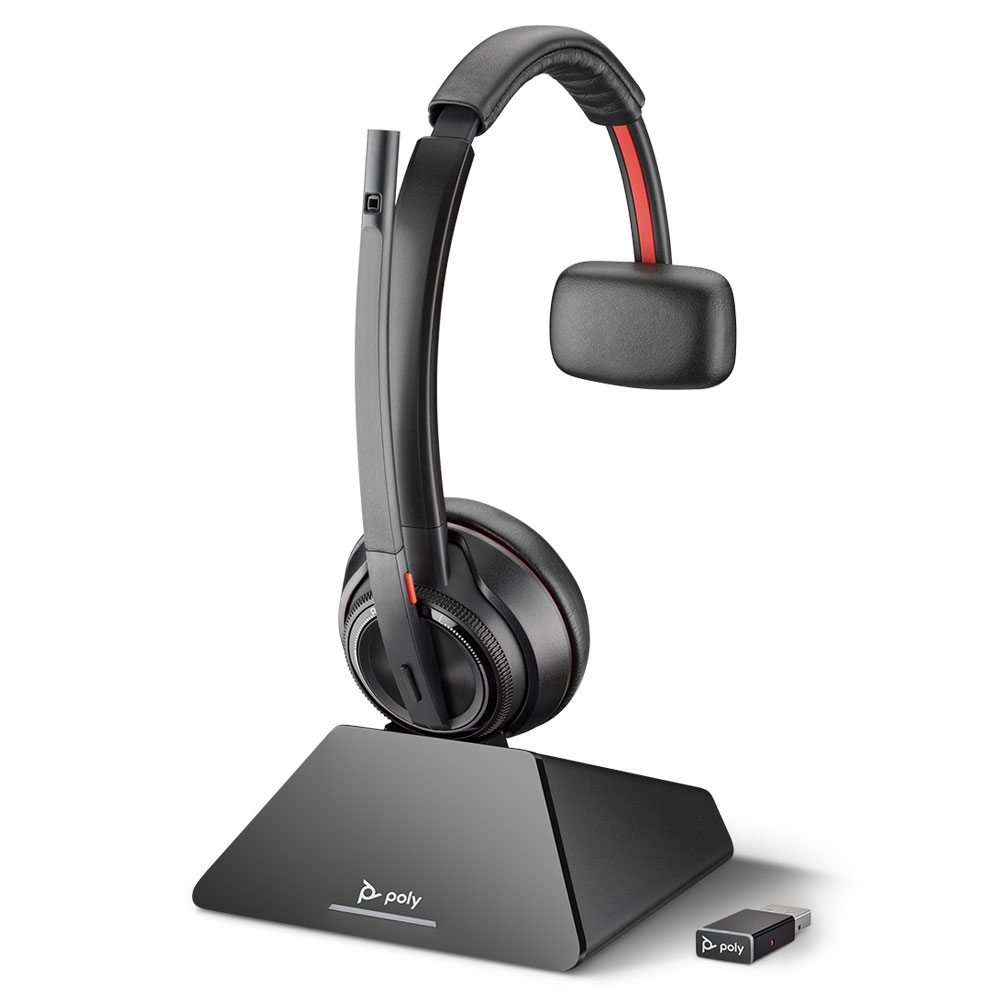 Poly Savi 8220 UC Stereo USB Wireless Computer Headset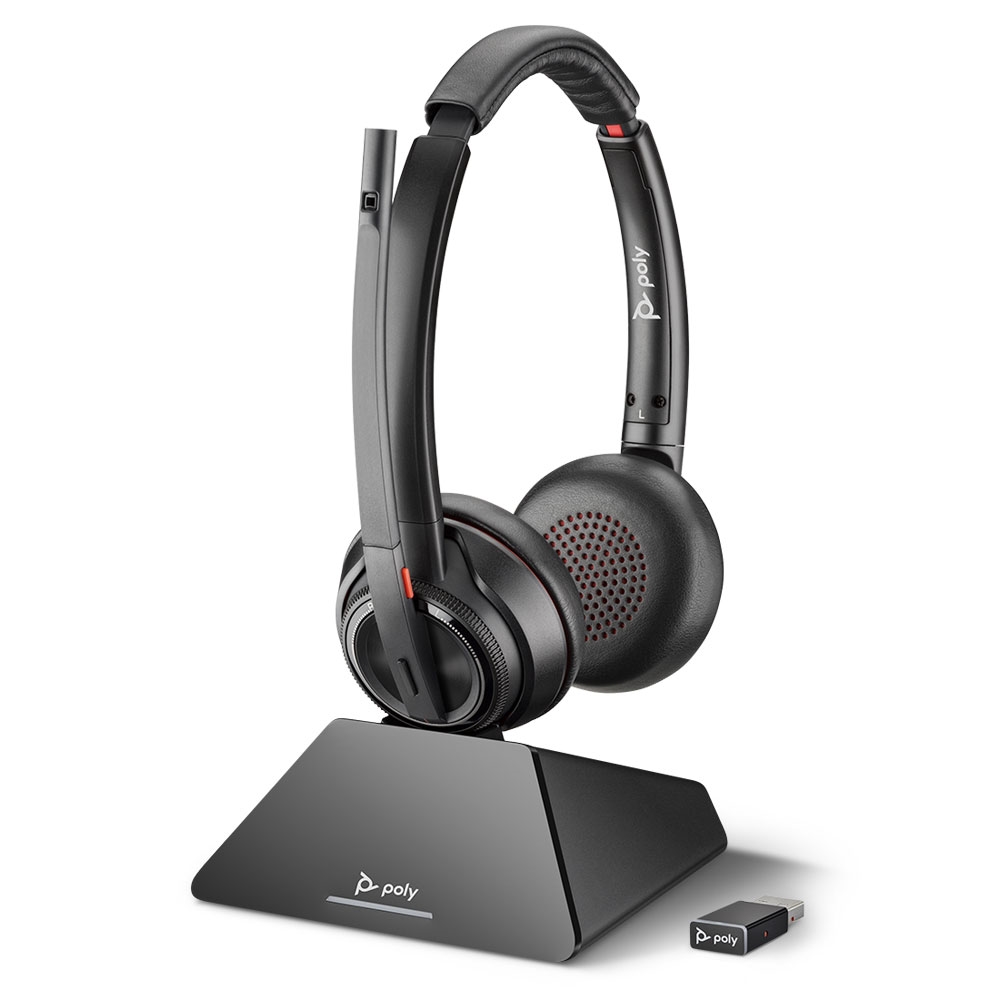 Bluetooth Wireless Hearing Aid pendant Desk phone Compatible Systems: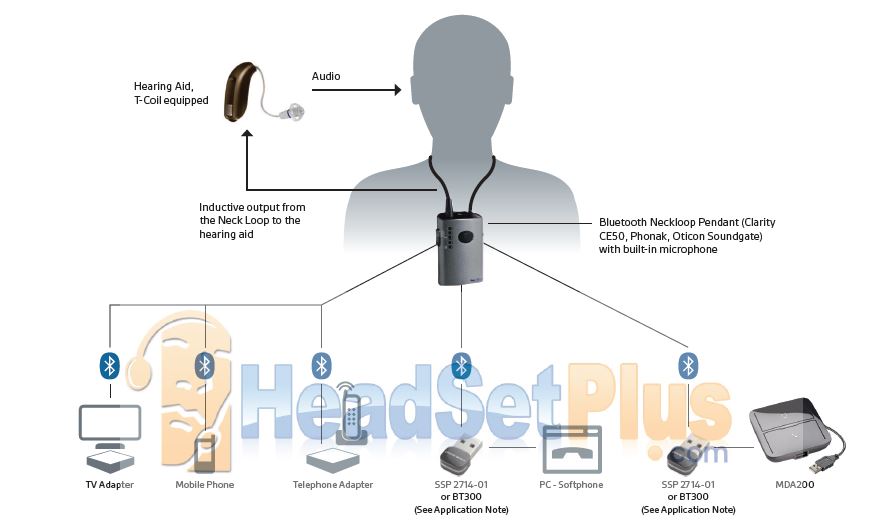 You may use the Plantronics MDA220 with a SSP-2714-01 Bluetooth Dongle (56bit security).The Plantronics SSP-2714 is a version of the BT300 that has a lower security level, compatible with almost all hearing aids. If your hearing aid does not have a microphone, you will need a pendant or neck loop from your audiologist or hearing aid provider (we do not sell pendants). Incoming audio from a desk phone is sent via Bluetooth to the Pendant. Incoming audio is then sent from the Pendant to the T-Coil hearing aid(s) via induction. The Pendant (neck loop) has a built-in microphone. It captures the user's voice which is then sent out to the desk phone or MDA220 via Bluetooth.  Desk phones do not pair with the hearing aid itself, it pairs with the Bluetooth Pendant. (No headsets are used in these situations.)

The Plantronics dongles are specially designed for Bluetooth Hearing Aids Pendant systems. It's known to be compatible with the following Bluetooth hearing aids: Phonak ComPilot, Oticon Streamer, Phonak iCom, Phonak Unitron uDirect, Rexton Remote, Mini Blu RCU and Blu RCU, Siemens Mini-Tek, ClearSounds Quatro, Starkey SurfLink, Widex M-Dex, Noizfree Beetle H-3ST Neckloop and ReSound Unite Phone Clip+
The Neck loop/pendant (made by Clarity, Phonak, Oticon, Siemens, Unitron, Starkey) has a built-in microphone. It captures the user's voice, then sent to the desk phone via the MDA220 via Bluetooth. No headsets are needed.
If your hearing aid does not have a microphone or include a Bluetooth Neckloop pendant (to talk into), you will need to purchase a hearing aid pendant (microphone) separately. Otherwise, you have no microphone to speak into.
Wireless Solution for use for softphone on a computer:
To use the Bluetooth hearing aid on a PC for a soft phone application, you simply need the Plantronics SSP2714  and a Bluetooth hearing aid compatible pendant (Bluetooth dongle attached to the PC) then you're all set to go.

Optional Plantronics HL10 Handset Lifter or EHS cables are also compatible with with the MDA220.  Fee free to call one of our headset experts at HeadsetPlus.com (650-306-9768) if you need further assistance.
*application Note: The customer must determine the security level of their Bluetooth Neck loop Pendant.
Also see Phonak ComPilot (UniTron uDirect2) installation/user guide for some sample installation and user instructions.
See our blog on How to Connect a Bluetooth Hearing Aid to an Office Telephone and Pairing your Bluetooth Hearing Aid to the MDA220/SSP2714-01