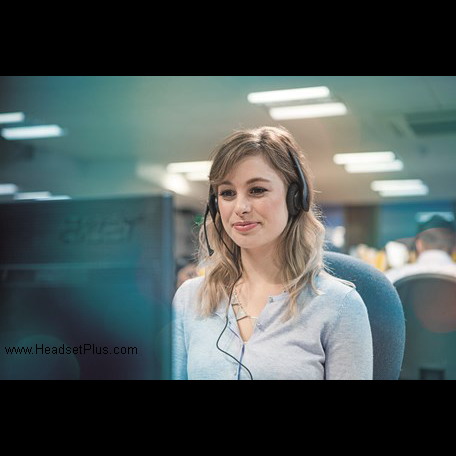 The Best Cisco IP Phone Compatible Headset Reviews:
You have a Cisco 7900, 8900, 9900 series IP phones (Cisco models 6921, 6941, 6945, 6961, 7821, 7841, 7861, 7931G, 7940, 7940G, 7941, 7941G, 7942G, 7945, 7945G, 7960, 7960G, 7961, 7961G, 7962, 7965G, 7970, 7970G, 7971G, 7975G, 7985G, 8811, 8841, 8851, 8861, 8865, 8941, 8945, 8945G, 8961, 9951, 9971 ) in your office and you're looking for the best headsets?  Look no further.  HeadsetPlus.com have professional quality Cisco certified headsets price range from $70 – $300, depending on your budget, style and features.  The more expensive headset models offer triple connectivity – connecting to the Cisco desk phone, computer (via USB), and cell phone (like iPhone).  The lower end only connect to only your Cisco deskphone.  Of course the more expensive models are typically better built with better components and better sound quality.  Below is some of our best Cisco compatible headsets:
1)  Jabra Biz 1500 Mono Cisco Compatible Headset –
This Jabra Biz 1500 headset is very popular among large call centers and large offices due to its price point.  It's an entry level headset with many of the features of the more expensive models like noise canceling microphone, bendable boom, and a full 2 year warranty.  It's pre-bundled with the Cisco certified adapter cable, so nothing else is needed for your Cisco phone, simply plug and go!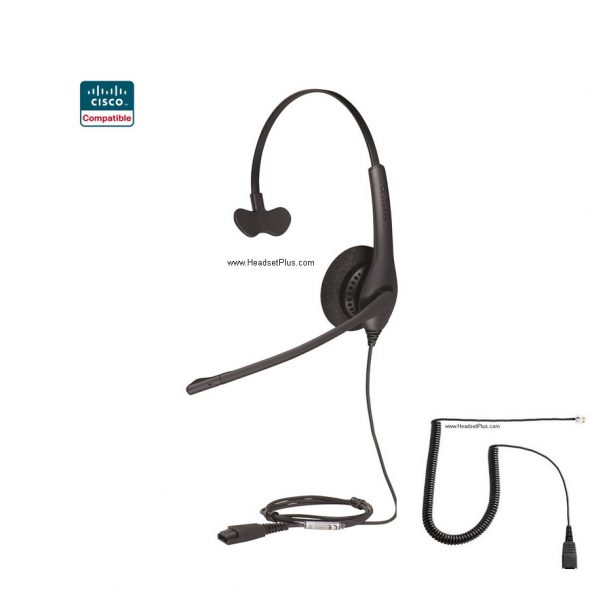 2)  Jabra Biz 2300 Duo Cisco Certified Compatible Headset The Jabra Biz 2300 series is the middle-of-the-line Cisco compatible headset. This Biz 2300 duo is a binaural headset covering both ears.  It's a good headset to cover both ears for noisy office where you need to focus on your phone call.  It also has a noise canceling mic to filter out the background noise for your caller – so he doesn't hear your co-workers' conversation or the typing on your keyboard. The Jabra Biz 2300 cord is Kevlar re-enforced so it's not easily broken, even if you accidentally run over it with your office chair. It also has a 2 year warranty.  If it fails within 2 years, Jabra will replace it for you at no charge.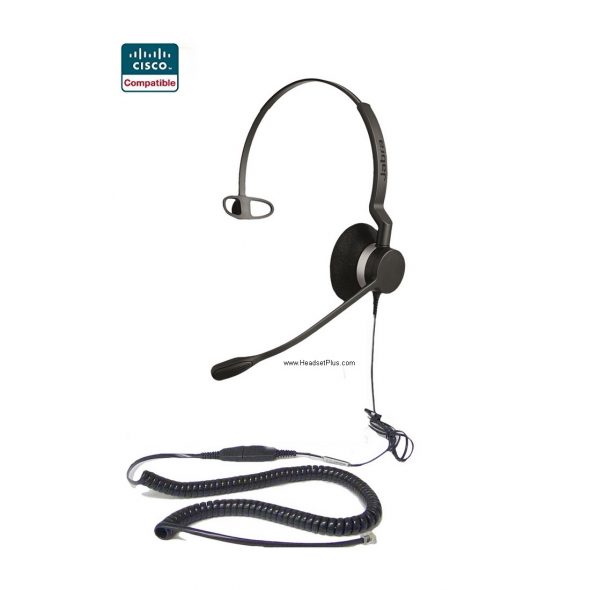 3)  Plantronics HW540-CIS Cisco IP Phone Headset This Plantronics HW540-CIS is very popular because it's a "convertible" headset.  In the same headset package, it comes with 3 different wearable attachments (over-the-head, over-the-ear, and behind the neck).  So, if the office worker is not sure which style he/she likes, this is the perfect headset for you.  You get all 3 wear styles, so you're not stuck with any one wearing style.  It's lightweight and equipped with High definition and wide band audio sound for the most natural sounding voice.  It's also pre-packaged with the Cisco certified cable.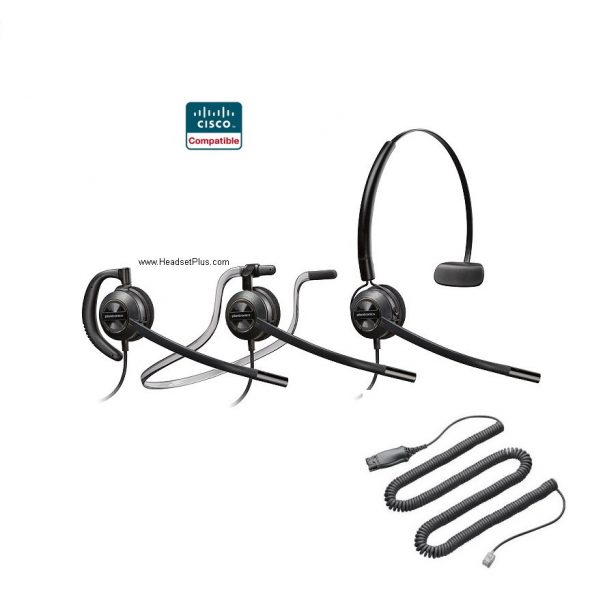 4) Plantronics HW710-CIS Noise-canceling Cisco IP Phone The Plantronics HW710 is the top of the line corded Cisco headset.  It has all the bells and whistles that's available in a corded headset.  Built from lightweight composite material, reinforced headband, best noise canceling microphone technology available, plush leatherette ear cushions, HD/wide band sound, and a retractable microphone so it's adjustable perfectly to your mouth.  Like the others, it's also bundled with the Cisco certified adapter cable needed to use with your Cisco phone.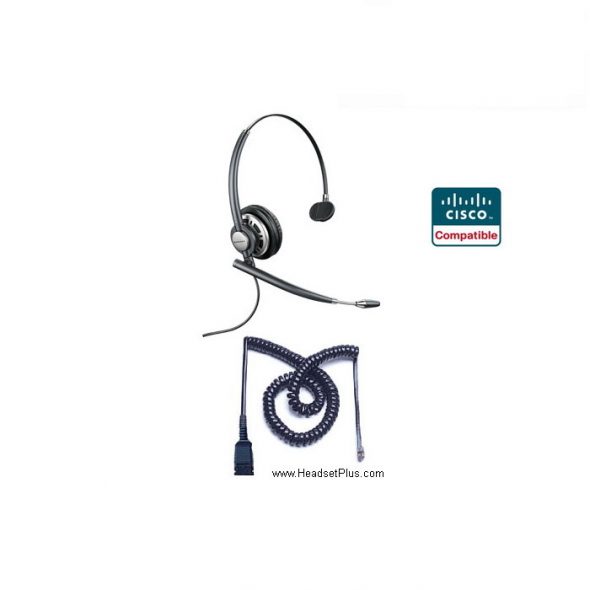 5) Plantronics CS540+EHS Wireless Headset with Remote Answer Bundle for Cisco This is our top selling Wireless Headset bundle for Cisco IP phones.  It's pre-bundled with the necessary Cisco EHS cable (electronic hookswitch) so it provides ability to remote answer your Cisco phone.  Plantronics CS540 wireless headset is very popular headset due to its convertible headset options.  You can wear the headset either over-the-head or over-head-ear.  It's very lightweight (only 0.7oz) for all day comfort and has a sleek design.  Of course it has all the top headset features like wideband audio, digital signal processing, and soundguard protection for noise spikes.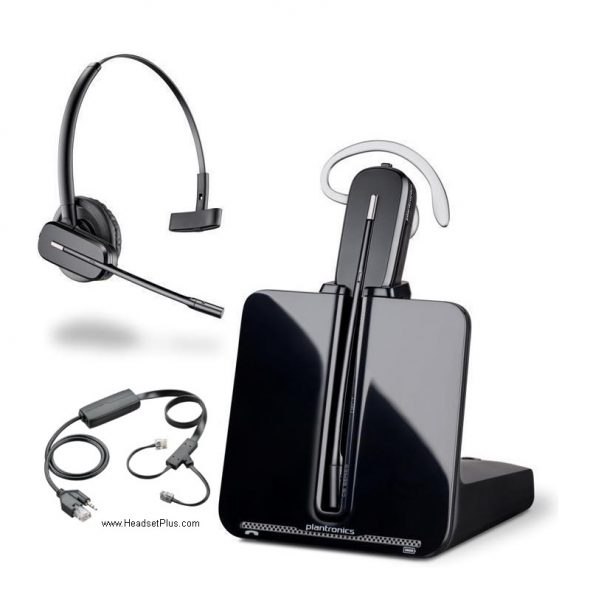 6) Plantronics Savi 8220 + EHS Remote Answer Bundle for Cisco Phone <= staff pick
This headset is the newest and best wireless headset on the market. This headset is the upgraded replacement for the Plantronics Savi 700 series. It has all the same great features and even more! The most notable feature added to this headset is the active noise canceling headphones. When you're in a loud environment, this headset will actually block out background noise for the user and not just the customer on the other end. You will have an improved 590ft line of sight range and 13 hours of talk time. You will still also be able to connect to 3 devices using the same headset. Your Cisco phone, a USB device, a Bluetooth device. This headset comes with everything you need, including remote answering. Remote answering is the ability to answer and end phone calls away from your desk, simply by activating the headset. The Savi 8200 series is by far the best headset on the market.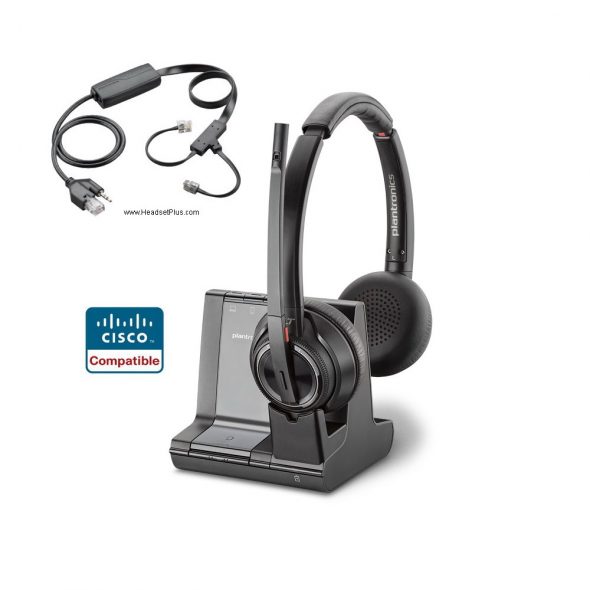 7) Poly Savi 7210 + EHS Remote Answer Package Cisco IP Phones
Poly , formerly known as Plantronics offers the new Savi 7210, which is an over the head wearing style headset covering one ear with a range of up to 400 feet on line of sight thanks to its 64 bit DECT frequency and with a talk time of up to 12 hours of talk time or 50 hours on stand by in a single charge. Pretty nice new design from Poly with a nice paddling making it comfortable to be use on a daily basis, Noise Canceling microphone that can block up to 60 % of the users background noise and with this particular model you can answer your Cisco desk phone by just tapping your headset even if you are away from it. Making it a nice option to be worn daily with weight of only 104 grams. Get yours HERE.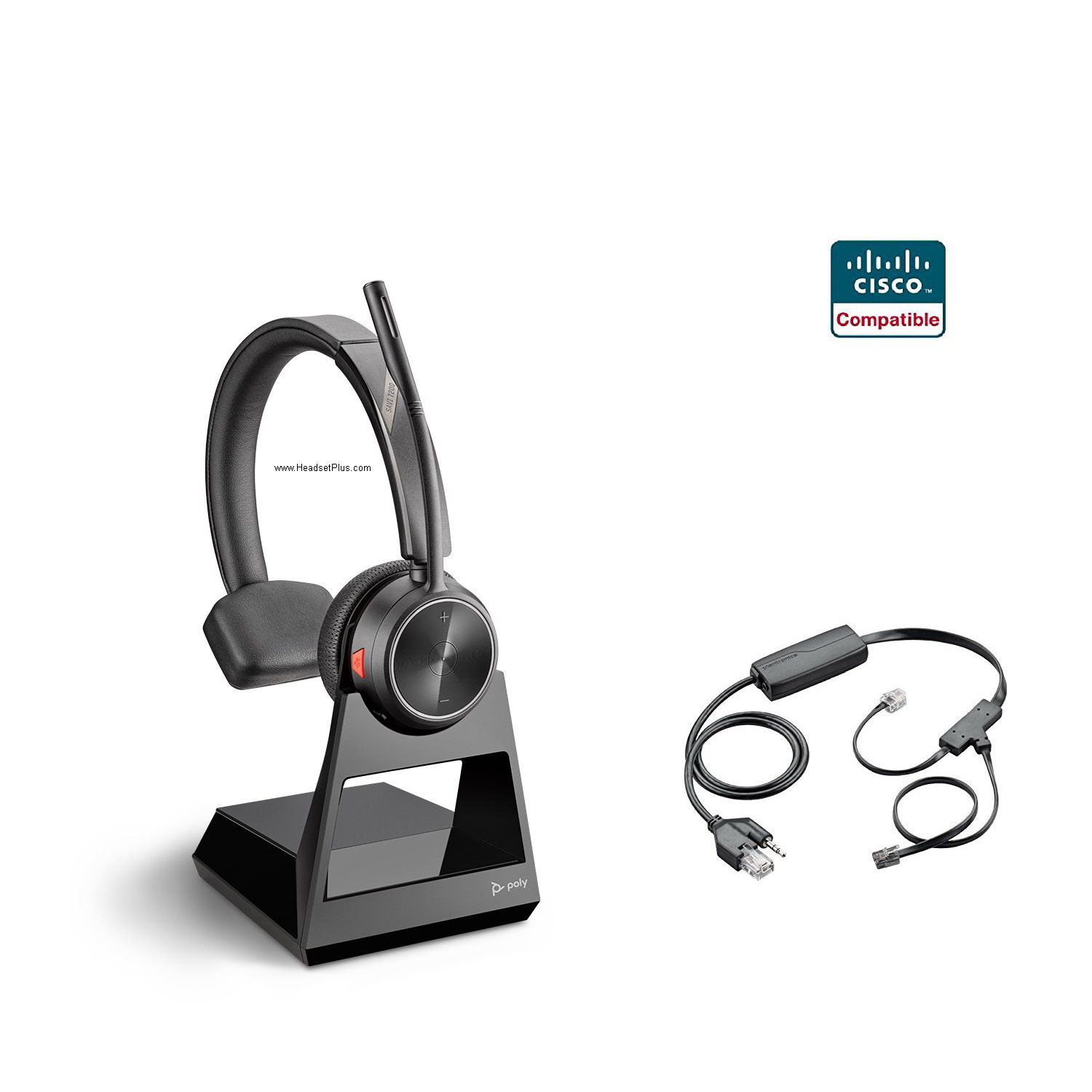 8 ) Poly Savi 7220 + EHS Remote Answer Bundle for Cisco IP Phones
For those wanting a rich stereo sound quality for your phone calls on your Cisco desk phone, Poly offers the Savi 7220, with the same noise canceling microphone as the previous sibling. The Savi 7220 is a easy to use wireless headset in a easy to install as well as plug and play, making sure before to enable the remote answer capability on your desk phone. Getting the same talk time as the sibling of up to 12 hours, as many people can think that by having 2 earcups can create a drain of power. We can find the Wideband HDaudio and a range of up to 400 feet with a weight of 138g only, making it a no brainer replacement for the old outdated CS520 headset and now offering a easier to locate mute key on color red, and intuitive volume and call controls. Get yours HERE.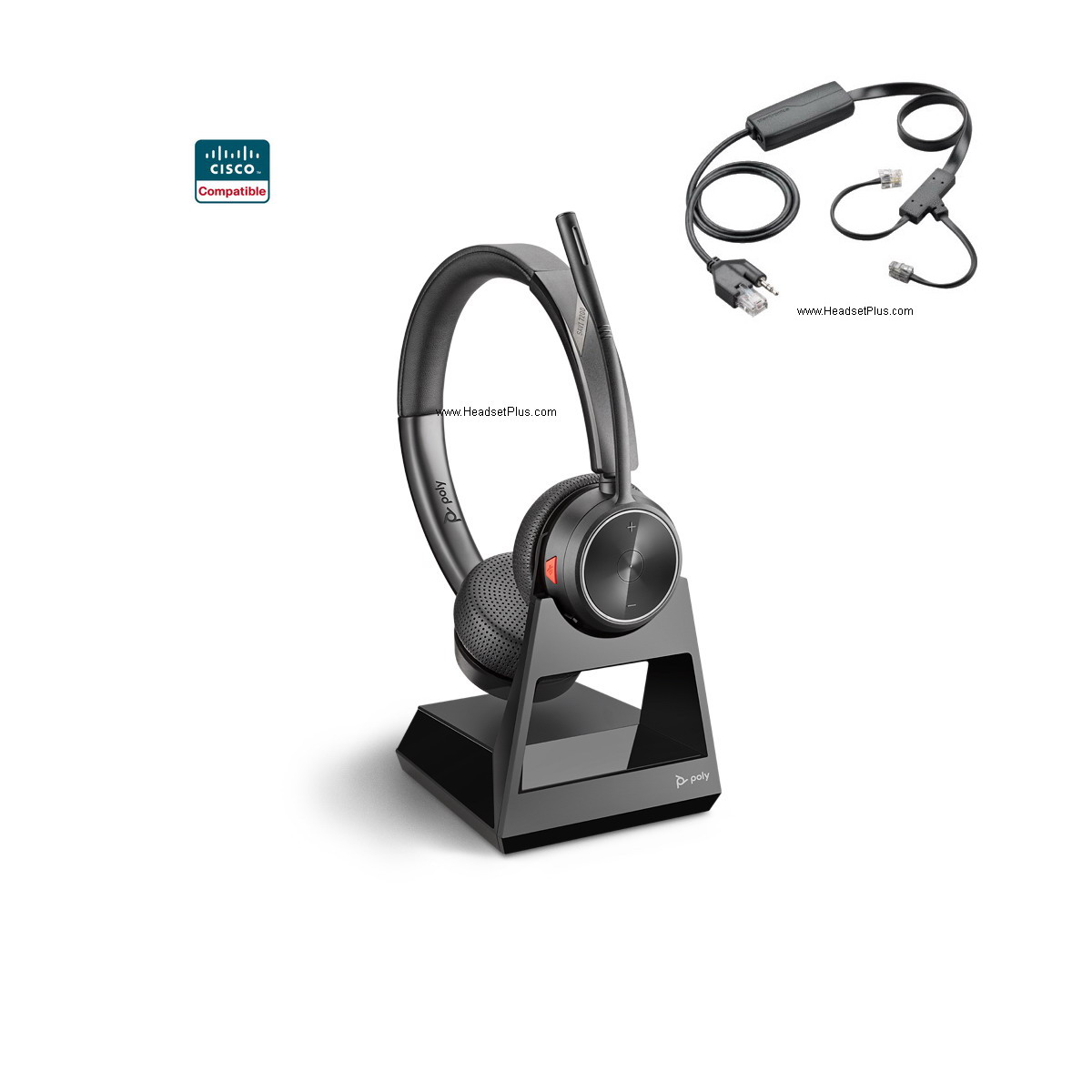 9) Plantronics Savi 8240 Office + EHS Remote Answer Bundle Cisco
Plantronics gives us the Savi 8240 Office, which is a multi connectivity headset , similar to the sibling 8220 that mentioned before, as you can use it with your Cisco desk phone, with your computer thru USB-A and with your cell phone via Bluetooth built into the base. In this case, the 8240 Office is a mono style headset in a convertible style setting, that allows you to wear it over the ear with its ear hook, or over the head thanks to the headband or behind the neck with its neckband. With a range of up to 590 feet on line of sight and a talk time of up to 7 hours in a single charge. Noise canceling microphone in its discrete microphone boom, simply tap your headset and you will be able to answer your Cisco phone, tap again and end the call and put the headset on sleep/stand by mode. Get yours HERE.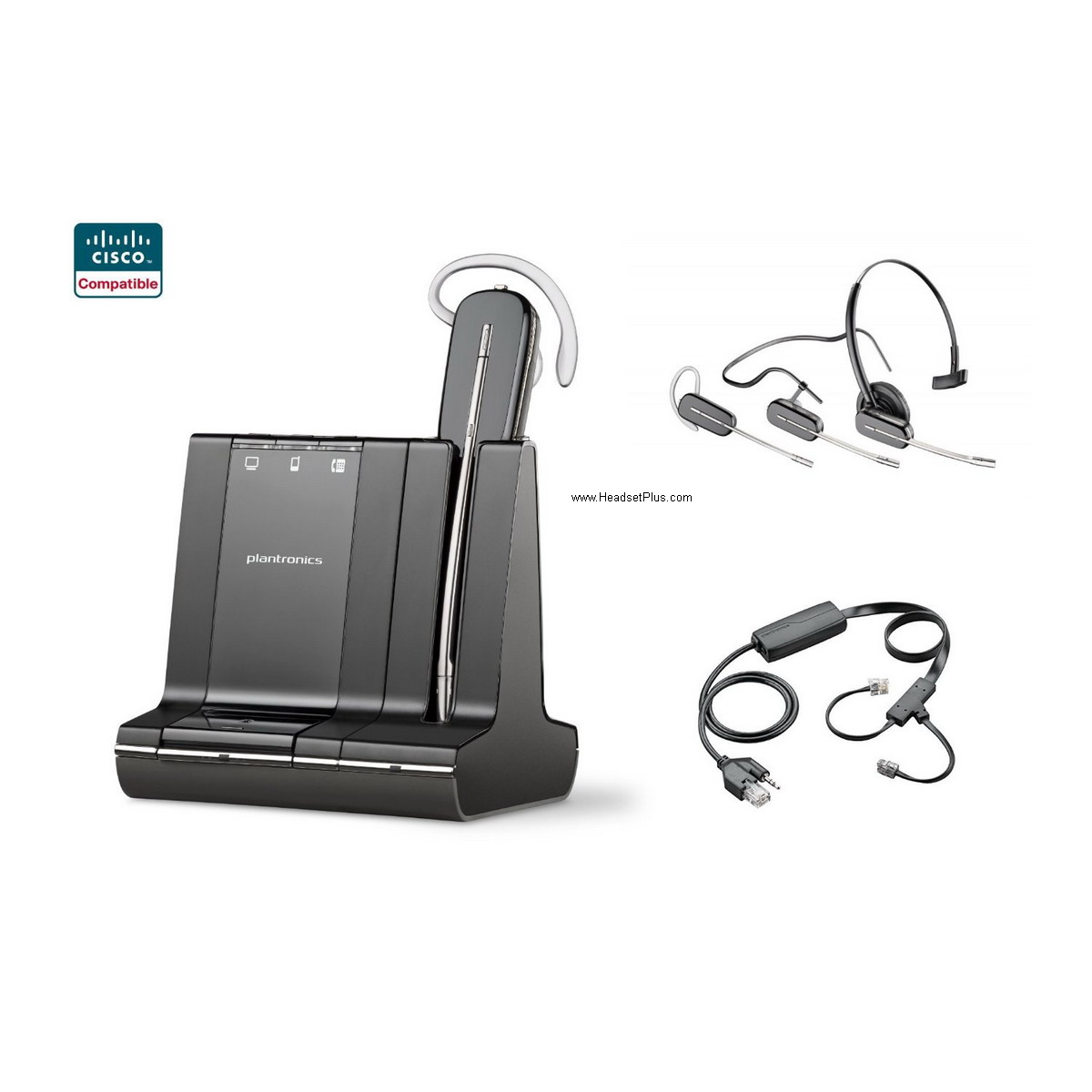 10) Poly Savi 7310 + EHS Remote Answer Bundle for Cisco IP Phones
One of the newest additions from Poly, the Savi 7310 offers dual connectivity, so you can use it with your Cisco desk phone and with the computer, specially designed for people wanting to only use one headset while at the office as they have to take call and attend to either Teams or Zoom meeting or simply want to stream music from their computer while at work. The Savi 7310 offers a 256 bit AES encryption, thanks to a new chip and for the same reason offers Military Level FIPS, which is one of the most secure wireless frequencies and for the same reason, this offers a further range of up to 500 feet. The Savi 7310 headset offers 2X more density than other DECT headsets, for the same reason, you can have various of this headsets on a close environment and will not create any interference. Order yours HERE.
11 ) Poly Savi 7320 + EHS Remote Answer package for Cisco VoIP Phones
Poly offers the Savi 7320 with a further range as its sibling of up to 500 feet thanks to the 256 bit AES encryption and offers the same military level on security as well. The headset offers the same talk time of up to 13 hours in a single charge, and having both ear cups offers no compromise in that battery time. Dual connectivity as well, for the desk phone and for the computer, the 7320 comes with both USB-A and USB-C cables, so can be used literally with any computer or laptop and it's fully compatible with Windows and Mac systems. Acoustic Fence technology is found in the bendable boom arm which suppress most of those noises that are found in a lousy office. Get yours HERE.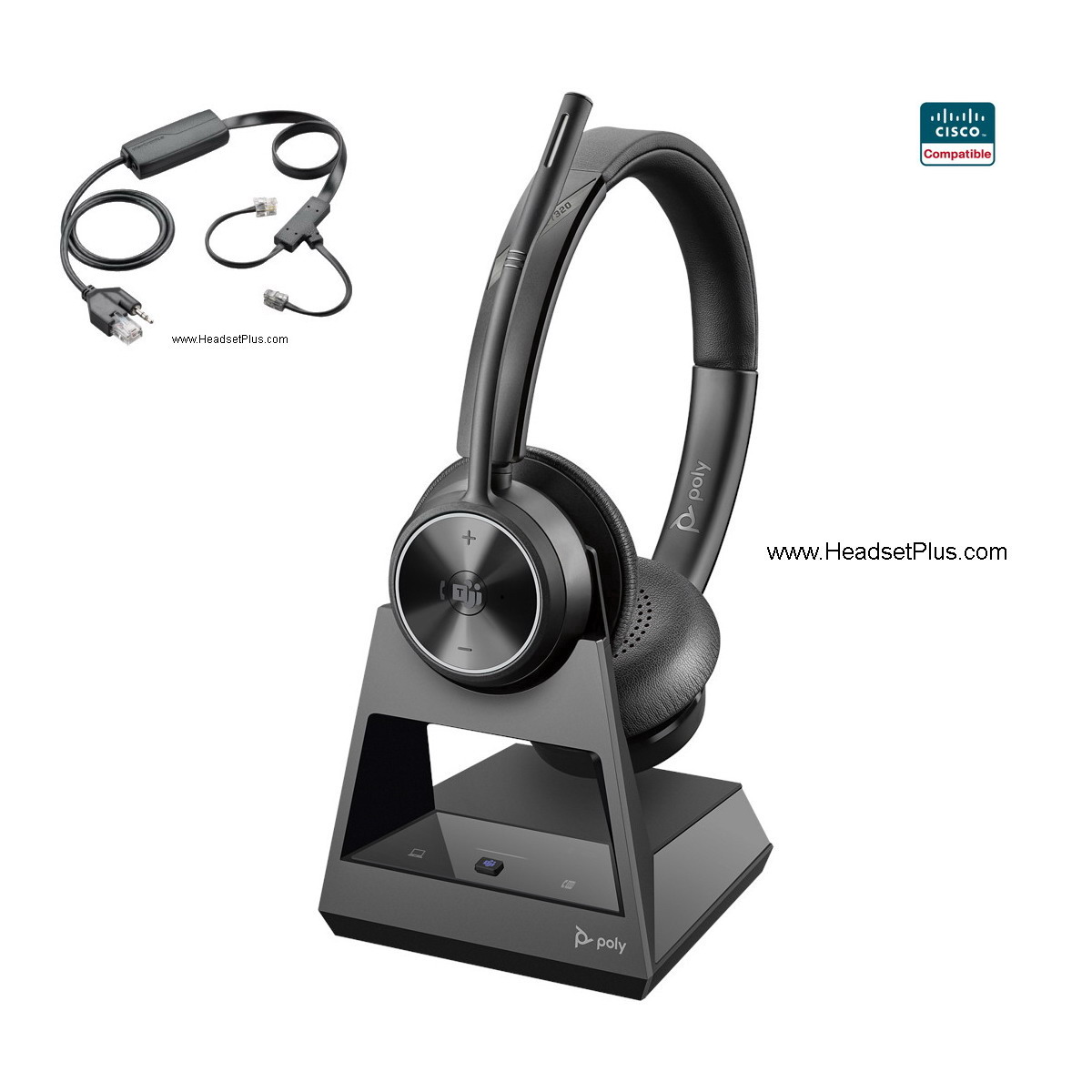 12) Poly Voyager Focus 2 Office + EHS Remote Answer Cisco IP Phones
Poly offers the new for this year Focus 2 in the Office variant, that allows you to use it with your Cisco desk phone, computer and cell phone at the same time. The Focus 2 is a class 1 Bluetooth headset so this means that you can take the headset down the road and keep using it with your cell phone in any place. With the newest Advanced Digital Hybrid Active Noise Canceling, with three levels that allows you to choose how much ANC you want depending on your location. Advanced multiple microphone noise canceling with Acoustic Fence technology that allows to have a better sound quality while balancing the outdoor sound quality in a discrete microphone boom that can be worn in either side and can be muted by bringing microphone boom up and un mute by bringing it down. Smart sensors allows you to answer a call by simply putting the headset on and mute microphone or pause music by taking it off. Get yours HERE.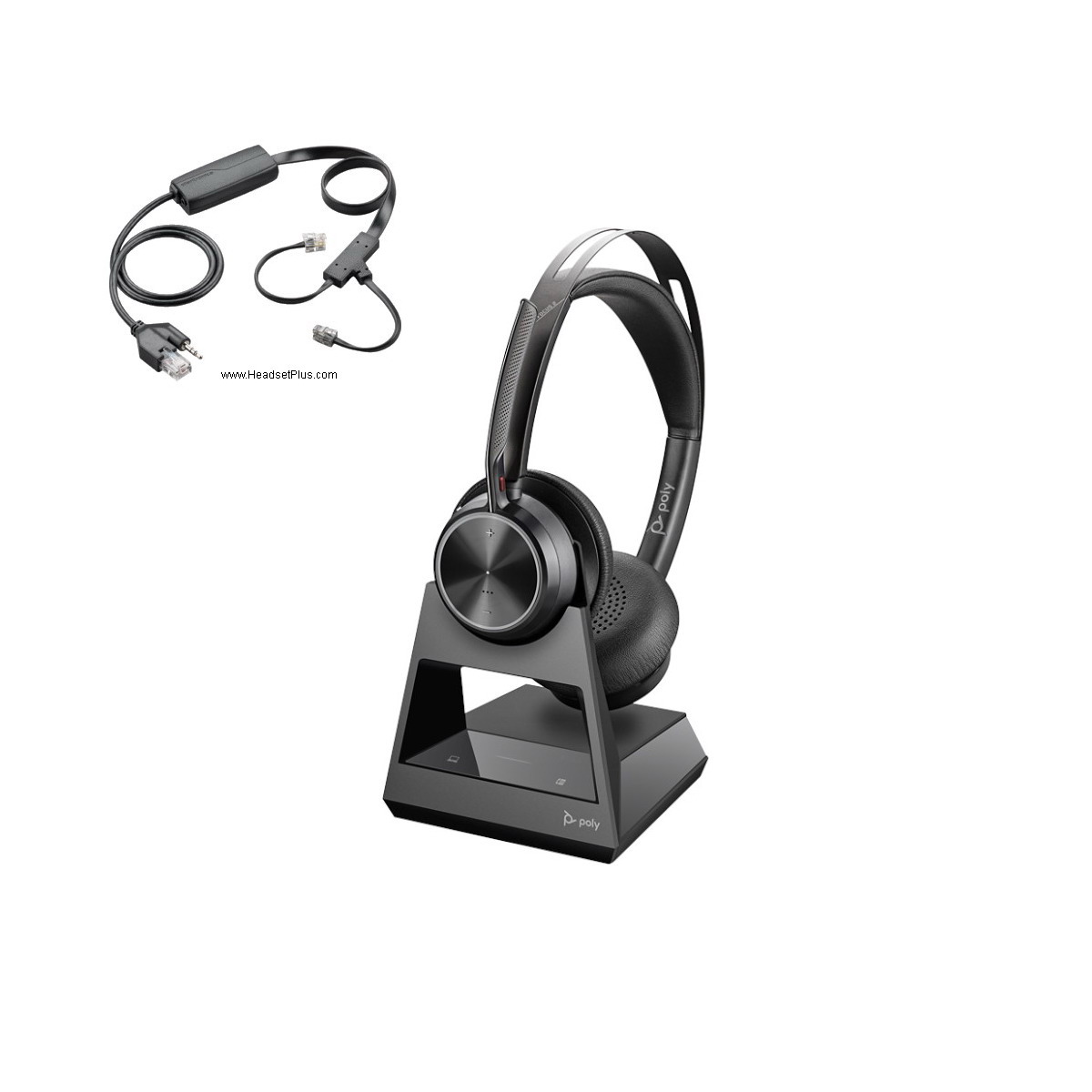 To see the whole line of Cisco Compatible Headsets, go to www.HeadsetPlus.com