Have you been looking for a headset for your MagicJack telephone device? We have the headset for you!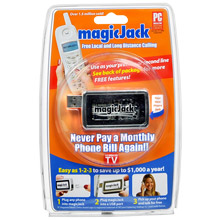 There are two ways to use a headset with the Magic Jack:
(1) Plug directly into the MagicJack: Any Telephone with a headset, for example Plantronics T10, Plantronics CT14.
(2) MagicJack comes with a PC soft phone for your computer PC or laptop, so you can use any computer USB headset via the USB port on your computer. If you have the extra budget, you can also go with a wireless USB Headset or the new Plantronics Savi W740 for use with both office phone and MagicJack.

For more information on this or other wireless headsets, call www.HeadsetPlus.com toll free at 877-999-3838