Jabra speak 510+, the ultimate wireless speaker phone
Jabra introduce it's all purpose USB, Bluetooth Wireless Speaker Phone bundle (Jabra Speak 510+).  It comes complete with a USB bluetooth dongle.  The dongle normally sells by itself for $74!
Jabra Speak 510+ design to be fully plug-and-play compatible with all major VoiP software and UC systems and their software such as Cisco, Avaya,and Siemens.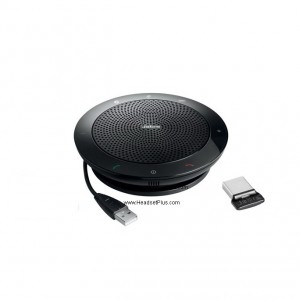 It's slim and compact enough where you can take it on the road.  (it also comes with a travel case) you can connect it to your iPhone or tablet via Bluetooth, laptop/PC via USB cable or the wireless Bluetooth dongle that's included in this bundle.  Furthermore, with the USB dongle, you have Bluetooth class 1 wireless range – up to 300ft!
To see the whole line of wireless headsets and Plantronics Headsets, go towww.HeadsetPlus.com