Wireless Headset Remote answering is the ability to answer your desk phone from your wireless headset when you are away from your desk. For example, if you are in the break room, looking for a file or talking with a co-worker and your phone rings you can just turn on your headset and answer the call.
Obviously, if you do not have remote answering you will need to run back to your desk, pick up the handset, place it on the desk then turn on your headset. For an employee who is constantly moving around and working, this way is not very convenient.
When purchasing a wireless headset ask your sales person about your remote answering (R.A.) options because depending on your desk phone and wireless headset you will need a R.A. specific device.
In general there are two R.A. devices. The first is a handset lifter, which physically lifts the handset off of the line once the headset has been turned on.
Below is the Plantronics HL10 Lifter

Below shows how the lifter works when activated.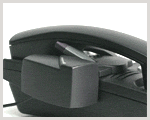 Below is the Jabra GN1000 Handset lifter which works exactly like the Plantronics HL10

Lifters are the most common R.A. device and work with almost all desk phones. As long as there is space in between the handset and the cradle for the arm to fit you can use a lifter. Handset lifters are mounted onto the side of the desk phone with strong double stick tape, follow the link for instructions: How to mount your handset lifter.
Pros:
1) They work with almost all devices
2) They are relatively inexpensive
3) They are relatively easy to install
Cons:
1) They have moving parts which eventually will break
2) They are not easy to move from one device to another because of the double stick tape
3) There is a slight delay the farther away you are.
The other option for R.A. devices is called an EHS cable, there are several other blogs written about different cables, here, here, here and here. There are multiple different EHS cables and they only work with certain phones.
For example, Cisco phones have 8 different EHS cables depending on which model desk phone, model wireless headset and manufacturer.
Cisco 7821 uses the Plantronics APC-4 for the Plantronic CS50, CS55, CS70, CS351, and CS361 models.
The Plantronics APC-41 for the Plantronics CS510, CS520, CS530, CS540 models and for the W710, W720, W730, W740 models.

The Jabra Link-22 for the Jabra Pro 9400 series and the Go 6470 series and finally the Jabra Link 16 for the rest of the Jabra Headsets. 
Therefore it is extremely important to know which model phone you have and to ask your sales person which EHS cable is compatible with your phone.
Pros:
1) No moving parts therefore it lasts longer than a lifter
2) Easy to move from one desk phone to another
3) Instantaneous answering no matter how far away you are
Cons:
1) More expensive than the handset lifters
2) Each EHS cable is unique and only works with certain phones
Most of the time it is better to go with the EHS cable since it has no moving parts, answers the calls instantaneously, and can be easily moved from one desk phone to another. These benefits easily out weigh the extra amount of money it costs, if your phone can use an EHS cable.
In the end R.A. is one of the most useful advantages of owning a wireless headset and should be taken advantage of whenever possible, I know I have.
For more information or help contact Headsetplus.com or call 1 877 999 3838