6 Best Jabra Headset Systems
When it comes to headsets, nobody does it better than Jabra. For quite some time, they have been the go-to provider for businesses to purchase quality office wireless headsets for their employees and managers to keep communications both among each other and to their clients clear and pristine. Without a doubt, Jabra makes some fine stuff that any owner would be happy to provide their employees with and HeadsetPlus.com is the best source for finding these at a discount.
But what is the best Jabra headset system? With so many great options, how can we decide which one to go with in order to get the best wireless headset for customer service and provide our clients with the best experience possible? Well, we're making this task a little easier as we list the top four cordless Jabra headsets. Our picks are dependent on the features available, the wireless range, good sound quality Bluetooth headsets, and of course the most affordable quality office wireless headsets. Due to the wide variety of options available, however, we cannot make a numerical list as everybody will look at a headset and decide for themselves if they like it.
Jabra Evolve2 65 UC Stereo Bluetooth Wireless USB-A Headset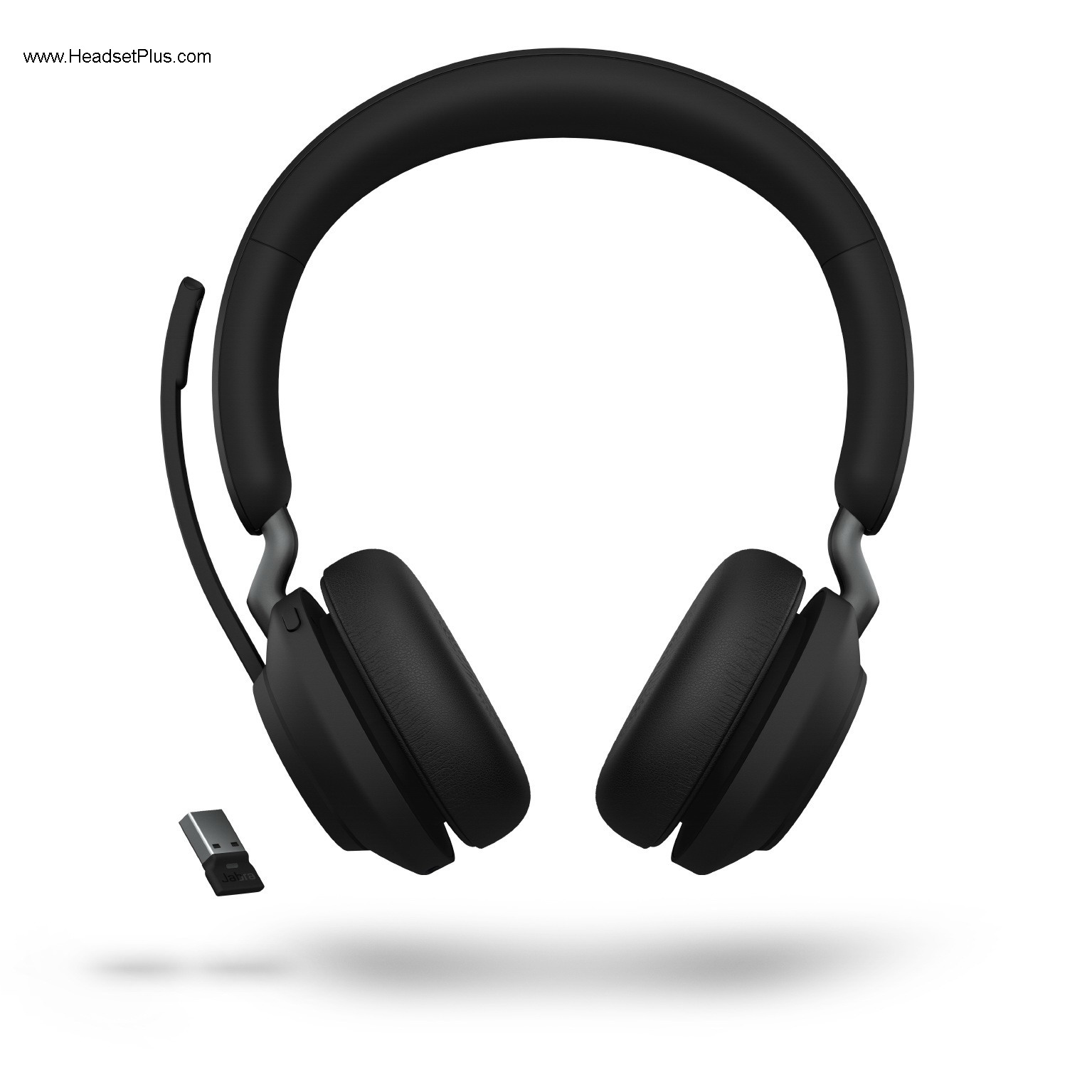 The first high quality Jabra headset we want to highlight is the new Jabra Evolve2 65 UC Stereo Bluetooth Wireless USB-A Headset. With a 100 ft. Bluetooth wireless range, it has one of the better ranges for quality Jabra headsets. The Jabra Evolve2 65 also has noise canceling microphone to block against background noise which can wrought havoc on call quality.  It's also includes a USB adapter to connect to your PC or laptop. With stunning talk time of up to 37 hours with one single charge, and with now memory foam ear cups and an adjustable padded headband which is able to adapt to any size head, making it ideal for the general user who is always walking about and needs to conduct business on the go. This also makes it great for construction foremen who need a quality Jabra headset that can block out all the surrounding noise.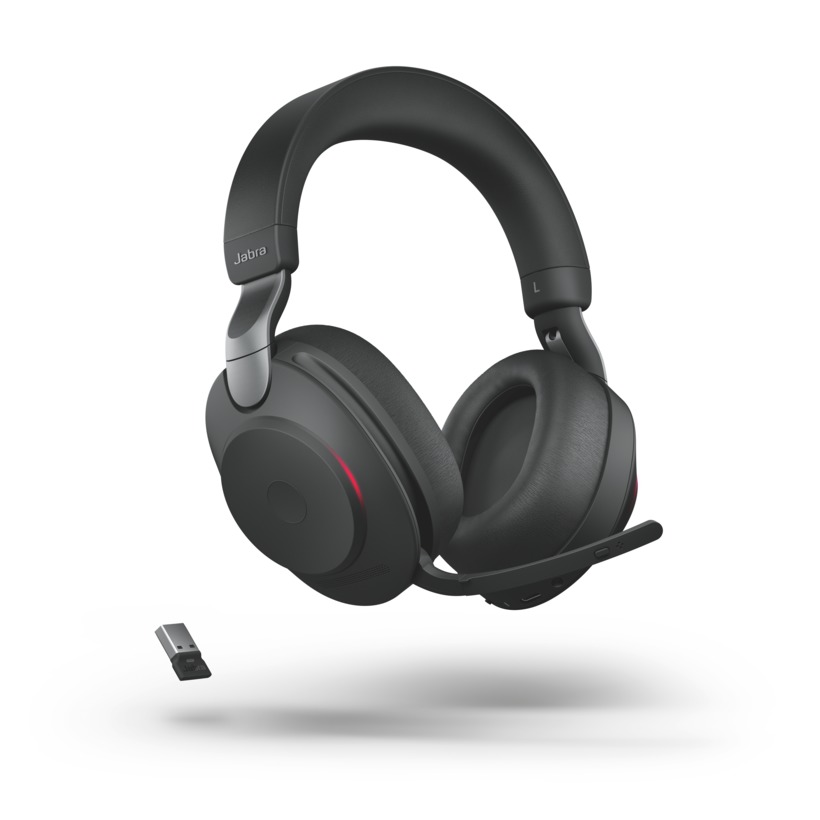 Jabra Evolve2 85 UC Stereo Bluetooth USB-A Headset, black

The second cordless Jabra headset we want to highlight is the new Jabra Evolve2 85 Stereo Bluetooth Headset. Much like the Jabra Evolve 75 UC that replaces, it has all sorts of features to encourage quality sound as well as comfort. What differentiates it, however, is its specifically for Stereo sound and it has active noise canceling speakers (ANC) for noisy environments or on a commercial flight. Use with many more features than you would find on the basic Bluetooth headset. It touts many features to make the call experience more comfortable to the user, such as HD-quality stereo sound voice and intelligent volume control to protect the user against sudden loud sounds.  When fully charged, it has 37 hours of battery time.   It also features the mute of the mic by bringing the microphone boom up, and connectivity by 3.5 mm jack as well.  Unless regular Bluetooth, the Jabra Evolve2 85 UC has 100ft of Bluetooth range from the PC (using the Link 380 dongle that's included).  Optimized for all major softphones.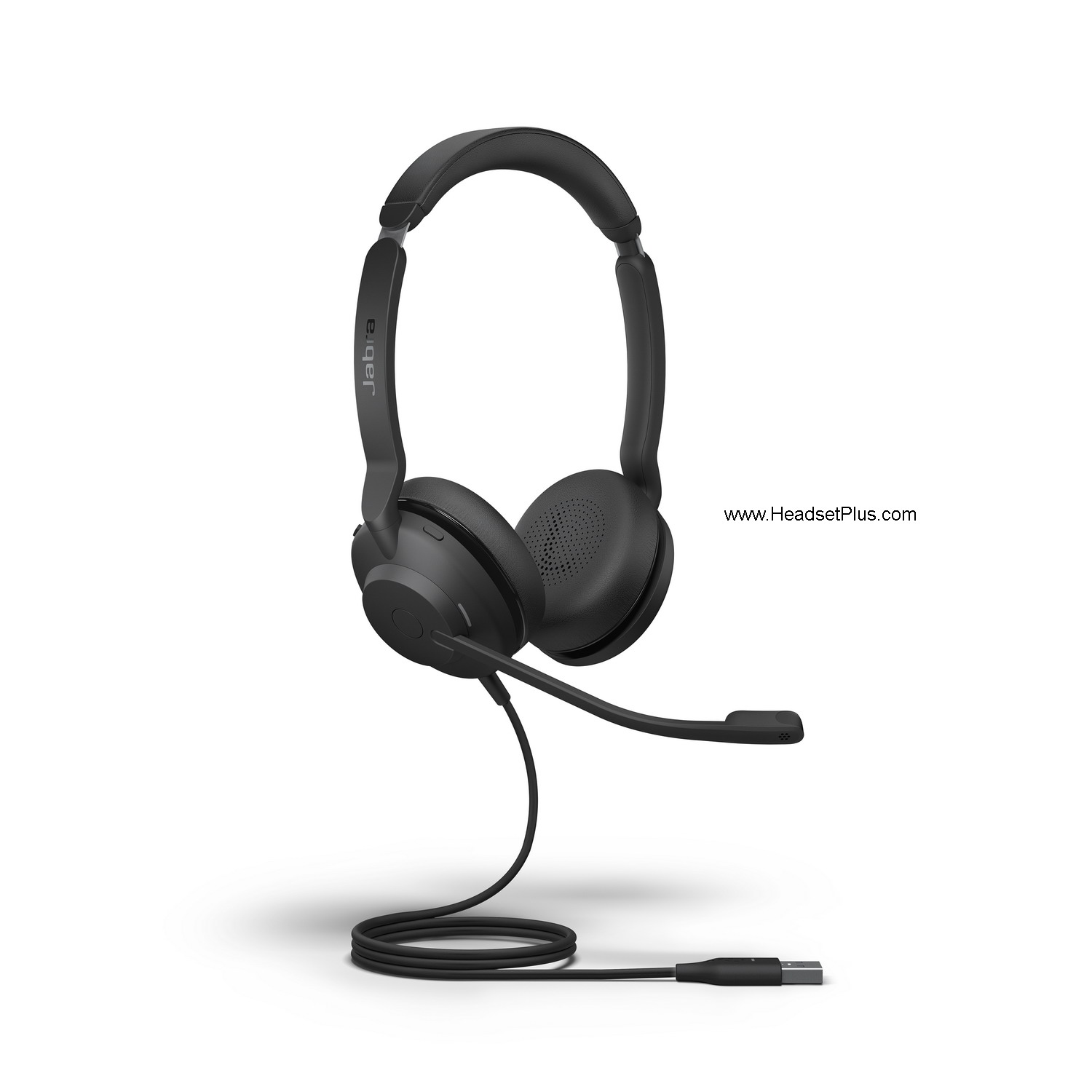 Jabra Evolve2 30 USB-A MS Teams Stereo Computer Headset
Jabra recently introduced the totally new Evolve2 30 USB-A MS Teams Stereo headset in the last couple weeks, this new entry level headset is the best option for people looking for a corded solution with nice built quality in a reasonable budget. Evolve2 30 Stereo covers both ears in a nice stereo sound quality, Noise Canceling microphones from Jabra, adjustable headband and volume controls in the right side of the headset. This unit comes with a built in busy light, which can't be found in most of the entry level headsets. The Evolve2 30MS is certified to work with Microsoft Teams and all major softphone applications in the market. Extremely light weight with a weight of only 126g, with leatherette ear cushions and advanced design that allows the user to find a comfortable position for a daily use. Order yours HERE.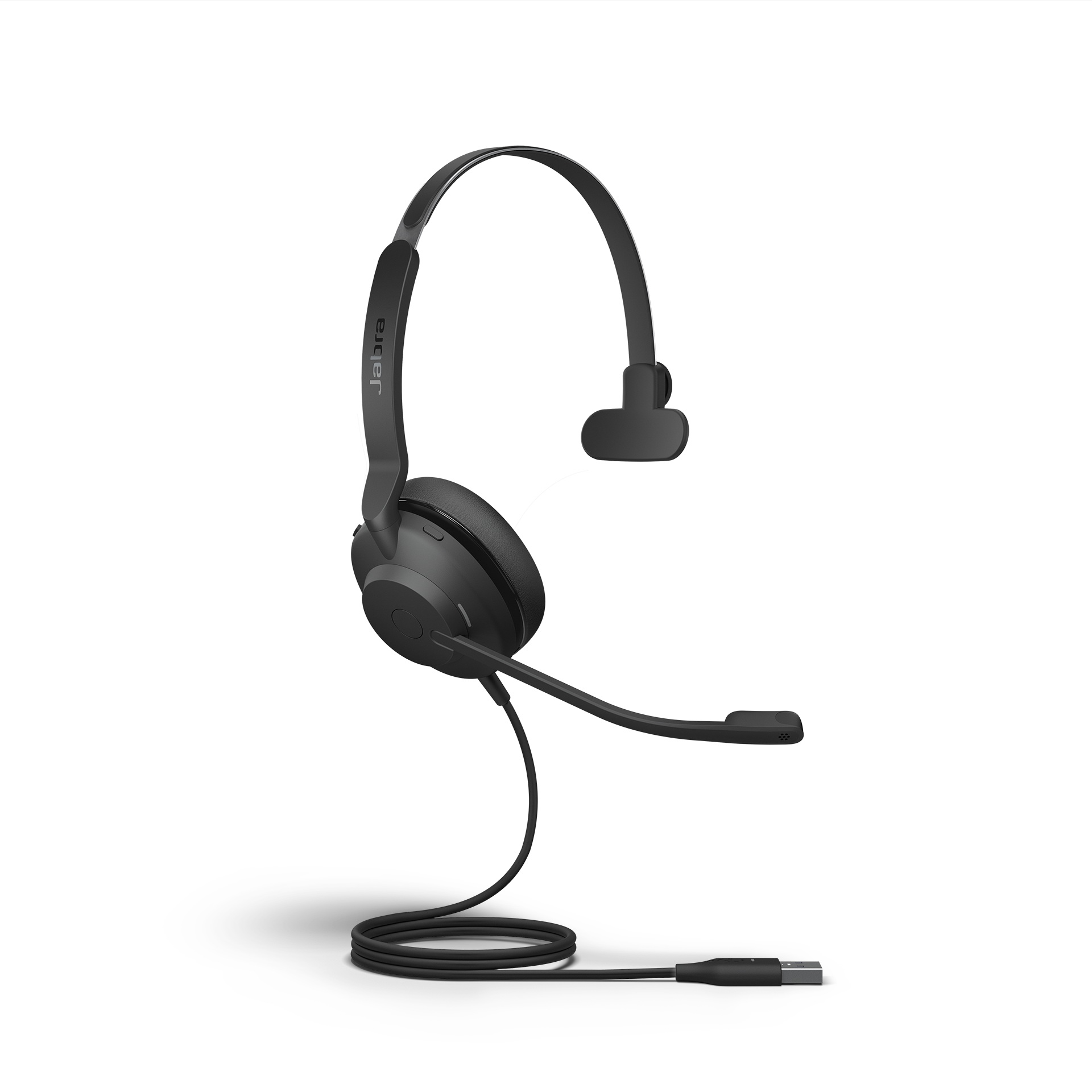 Jabra Evolve2 30 UC Mono USB-A Corded Headset
At the same time that Jabra brought us the stereo version, it introduces the best class entry level in a mono setting. The Jabra Evolve2 30 UC Mono USB-A, is the best option for people looking for the best of the entry level with the latest technology without breaking the bank. This headset offers earcup of 28mm with noise isolation, 2 noise canceling microphones, volume control built into the headset, Leatherette ear cushion, and an automatic built in busy light, that can be activated manually at will. Compatible with all major soft phone applications, including, but not limiting Zoom, Teams, Hangouts or Google Rooms. Coming with a 2 year warranty, this unit is one of the best ones in the market for someone looking the best without spending too much. Get yours HERE.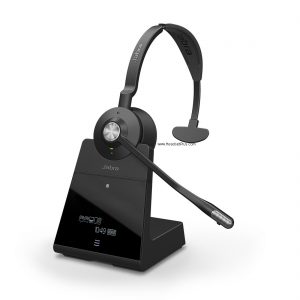 The third Jabra headset we want to talk about is the new Jabra Engage 75 Mono Wireless Headset System. This cordless Jabra headset is probably the most versatile of the four listed here as it has many features meant to make it easier to use for a wider group of people and for a wider number of platforms. Just like the Jabra Motion Office, it touts 5 device connectivity and it claims it has a 490 feet wireless range. We have yet to verify. What makes it different from the other two pieces, however, is its sound capabilities and wearing style. Unlike the other pieces mentioned so far, it has HD wide band sound capability, so it can create a higher sound quality than either of the other wireless models. This makes for a more satisfactory user experience and allows the person on the other end to communicate his message clearly. In addition, the Jabra Engage 75 is the only quality Jabra headset with the over-the-head headband wearing style you will find on most of the best Jabra headset systems.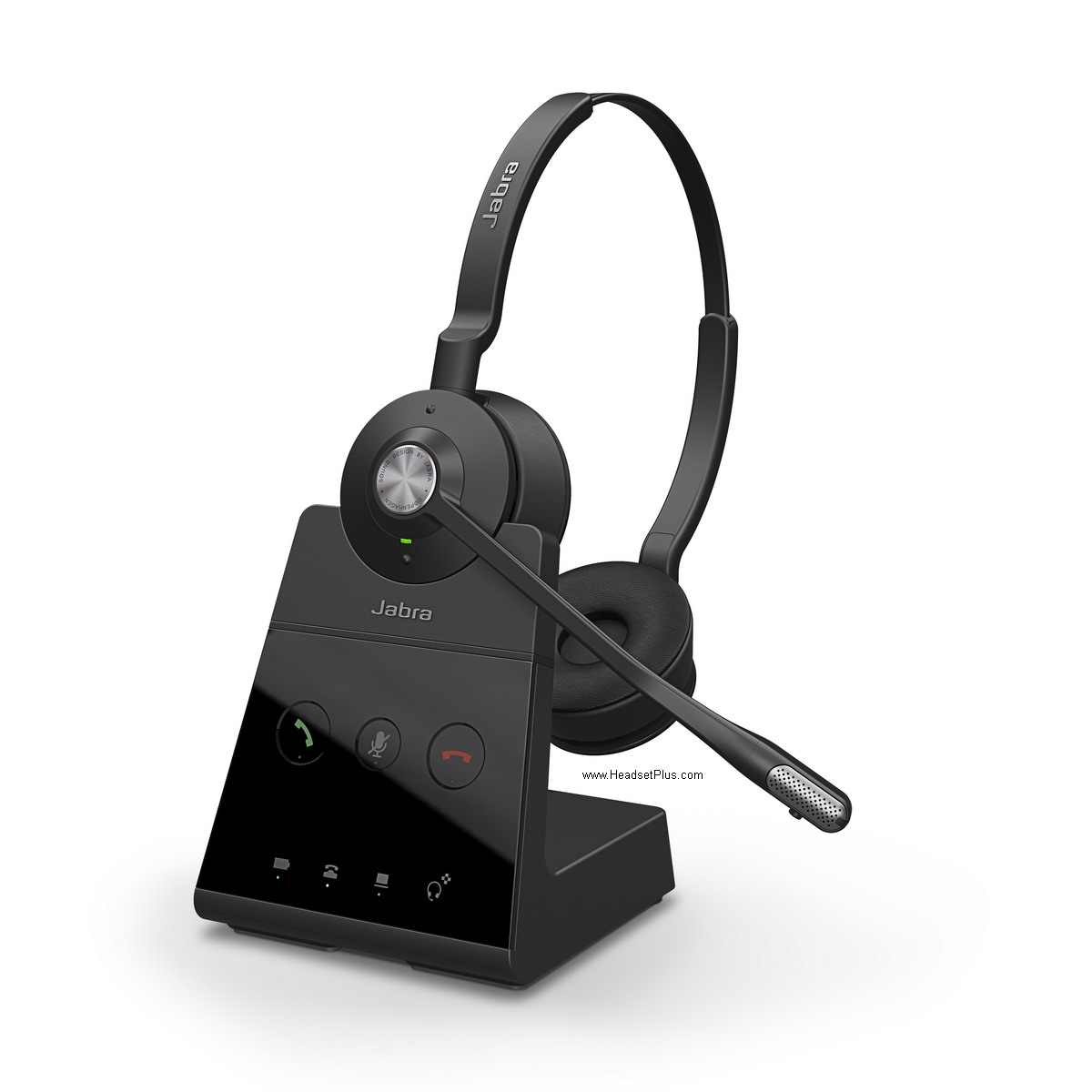 Jabra Engage 65 Stereo Wireless Headset System

Our last headset in our review is the Jabra Engage 65 Stereo Wireless Headset, the natural replacement of the venerable Jabra 9450 Duo. The Engage 65 offers connectivity to your desk phone and to your computer thru USB. One of the lightest and most comfortable headsets out in the market, offering a well built design headset with noise canceling microphone, adjustable headband volume/mute controls and busy light into the microphone boom, allowing you to let know when the user is a call. Offering up to 490ft of roaming range from the desk phone, with a weight of 83g , making it my favorite headset for an all day wearing with up to 13 hours of talk time and with a fast charging of only 90 minutes to charge to 100%, making it the option for a daily user.
Shop Around
Each of these pieces has their own merits that make them appealing to users of different types. Whether you are a road warrior, or a manager, or even a creative genius with more contracts than you can handle, there is a quality Jabra headset for you. Browse around our listing to see which one fits you best and find the most recommended customer service headsets and the best conference phones for the office. Contact one of our representatives any time if you have any questions.