Best 3 Wireless Headsets for Customer Service
Customer service representatives have the unenviable task of having to listen to the phone while typing at the same time, as well as getting up and moving around to check records. It can be very annoying for a customer to have to be on the receiving end of this and so the idea of a wireless headset in order to promote flexibility and freedom of motion is a godsend to most customer service representatives. There are quite a number of options available for choosing the best quality wireless headset for calling. In order for you to choose the best wireless headset for customer service you have to be aware of the options available for you and to choose quality office headsets that are most affordable and are best suited for your personal use as a customer service representative.
What Makes the Best Wireless Headset for Work?
There are a lot of different features that best wireless headsets for customer service offer and this list of features varies from headset to headset. For a customer service representative, it can be hard to find the best headset for calling. But to narrow down your options, you can seek out the functions and features that are best suited to your line of work. A quality wireless headphone is one that allows easy communication over a long range. This goes the same with the best Bluetooth office headsets. The range of a headphone is a key issue since shorter rangers tend to hobble your ability to move around freely since you can't walk outside of the wireless range. Noise cancelling makes headphones sound better and makes sure your client doesn't miss anything you say and you don't miss anything they say. Connectivity is another issue. Many wireless headsets today come Bluetooth connectable, but there are still wireless connectable headsets available. The battery in each of these varies and having a headset that gives you a large amount of talk time for the money you've invested is very important.
The List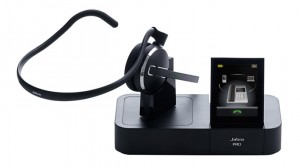 Jabra Pro 9470 Wireless Headset System
The Jabra Pro 9470 offers a wide range of functions to the user and is comfortable enough to wear around the office without seeming bulky. The connectivity of the Jabra 9470 is unmatched, allowing easy switching between the softphone, cell and desk, making it much easier to keep a call running across multiple situations. With a wireless range of up to 450 feet, the Jabra 9470 is ideal for situations where you have to cover a wide area or where you need to be constantly in motion. It keeps you connected over distances that can range to outside your own office. The Noise Blackout system developed by Jabra delivers unparalleled sound and gives crisp, clear audio without any static breaks. The battery guarantees talk time of up to ten hours. The touch sensor controls for volume and mute allow you to have full control over the audio coming into your headset at any given time. One of the best innovations the 9470 brings to the table is the SafeTone technology which limits sudden high peaks in sound so as not to damage user hearing. Combined with the high security and encrypted communication between the handset and the base and you have something that could possibly be considered the most advanced headset system for customer service work available.
Plantronics CS510+HL10 Wireless Headset Combo
This is a combo system that combines the Plantronics CS510 and the HL10 Lifter systems to give a seamless answering system for the wireless headset user. The CS510 is the
successor to the widely popular CS351N. This headset is one of the more popular headsets available for customer service representatives today because of its functionality. The monaural headset keeps you firmly grounded in the real world by allowing you to hear what's going on around you. Although not as immersive as the stereo headsets, the CS510 is safer for use in a place where office accidents can happen due to not being fully aware of your surroundings. The range is impressive at a massive 350 feet from the base station and the adaptive power system allows you to optimize the power used in the headset so that the battery isn't drained unnecessarily. The noise cancelling microphone is ideal for filtering out the background noise that tends to happen in a busy office environment. Multiple headsets can connect to the same base in a simple and intuitive fashion: by simply docking the headset. Up to three CS510 headsets can be connected to the same base station, making conference calling easy. On a single charge you can get up to nine hours of talk time. As far as headsets go, the CS510 is one of the more useful ones for customer service type work.
Jabra Engage 75 Wireless Headset System <= my pick
The Jabra Engage 75 Wireless Headset System has the long wireless range of all wireless headset on the market today. Jabra Engage 75 Mono also offers the most feature of any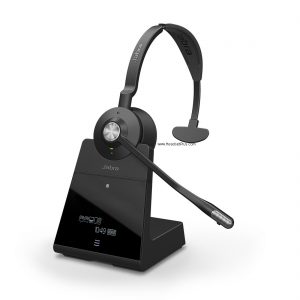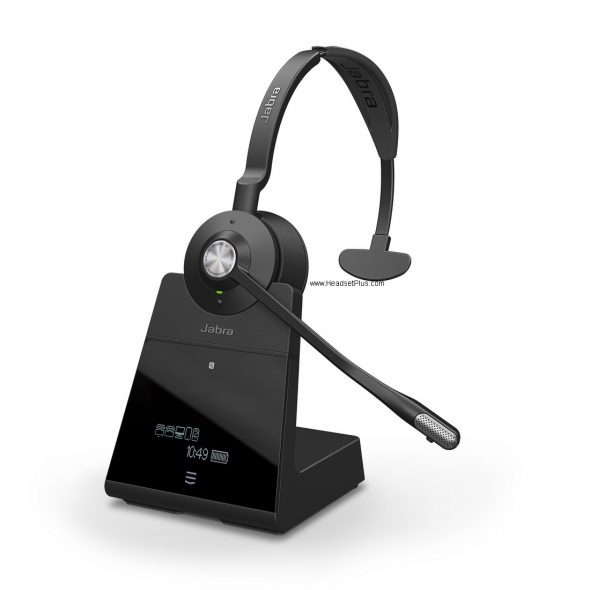 wireless headset on the market today.  HD clear audio sound and can connect with two smartphone, a desk phone, and two soft phone (5 devices total) as well as letting you seamlessly switch between any of these 5 devices using the touchscreen. When the battery is fully charged, it has a whopping 13 hours of talk time. It's also certified for Microsoft Skype for Business (MS Lync).
Using the reliable DECT 6.0 (1.9 Ghz) voice technology, you can stay connected with the wireless headset up to 490 feet.  It's equipped with 56-bit AES encryption and 128-bit authentication for secure conversation without any unwanted eavesdropping.  Click HERE for more details and to order
Wireless headsets for customer service representatives are common, but to choose quality headsets below 500 that works best for you, you'll have to experiment with comfort and viability. Not all headsets are created the same: some of them are clearly better than others. Although these three represent the best that the market has to offer in terms of wireless headsets, they are by no means your only choices. They simply represent the best value for money that you can get. You can also check out Bluetooth headsets with good sound quality for more mobility in the work place. Ideally, your headset should be comfortable and functional, allowing you to perform your job to the best of your abilities and with the least amount of trouble. Trying new headsets will allow you to choose the one that works best for your job.