Best Wireless Headsets for Customer Service
Customer service representatives have the unenviable task of having to listen to the phone while typing at the same time, as well as getting up and moving around to check records. It can be very annoying for a customer to have to be on the receiving end of this and so the idea of a wireless headset in order to promote flexibility and freedom of motion is a godsend to most customer service representatives. There are quite a number of options available for choosing the best quality wireless headset for calling. In order for you to choose the best wireless headset for customer service you have to be aware of the options available for you and to choose quality office headsets that are most affordable and are best suited for your personal use as a customer service representative.
What Makes the Best Wireless Headset for Work?
There are a lot of different features that best wireless headsets for customer service offer and this list of features varies from headset to headset. For a customer service representative, it can be hard to find the best headset for calling. But to narrow down your options, you can seek out the functions and features that are best suited to your line of work. A quality wireless headphone is one that allows easy communication over a long range. This goes the same with the best Bluetooth office headsets. The range of a headphone is a key issue since shorter rangers tend to hobble your ability to move around freely since you can't walk outside of the wireless range. Noise cancelling makes headphones sound better and makes sure your client doesn't miss anything you say and you don't miss anything they say. Connectivity is another issue. Many wireless headsets today come Bluetooth connectable, but there are still wireless connectable headsets available. The battery in each of these varies and having a headset that gives you a large amount of talk time for the money you've invested is very important.
The List
POLY OFFERS:
Poly Savi 7210+HL10 Wireless Headset Combo Package
Poly , formerly known as Plantronics offers the new Savi 7210 as well welcomed successor of the CS510 headset. With a fresh new headset style and with a bigger earcup offering a better paddling than before and with an improved talk time of up to 14 hours versus the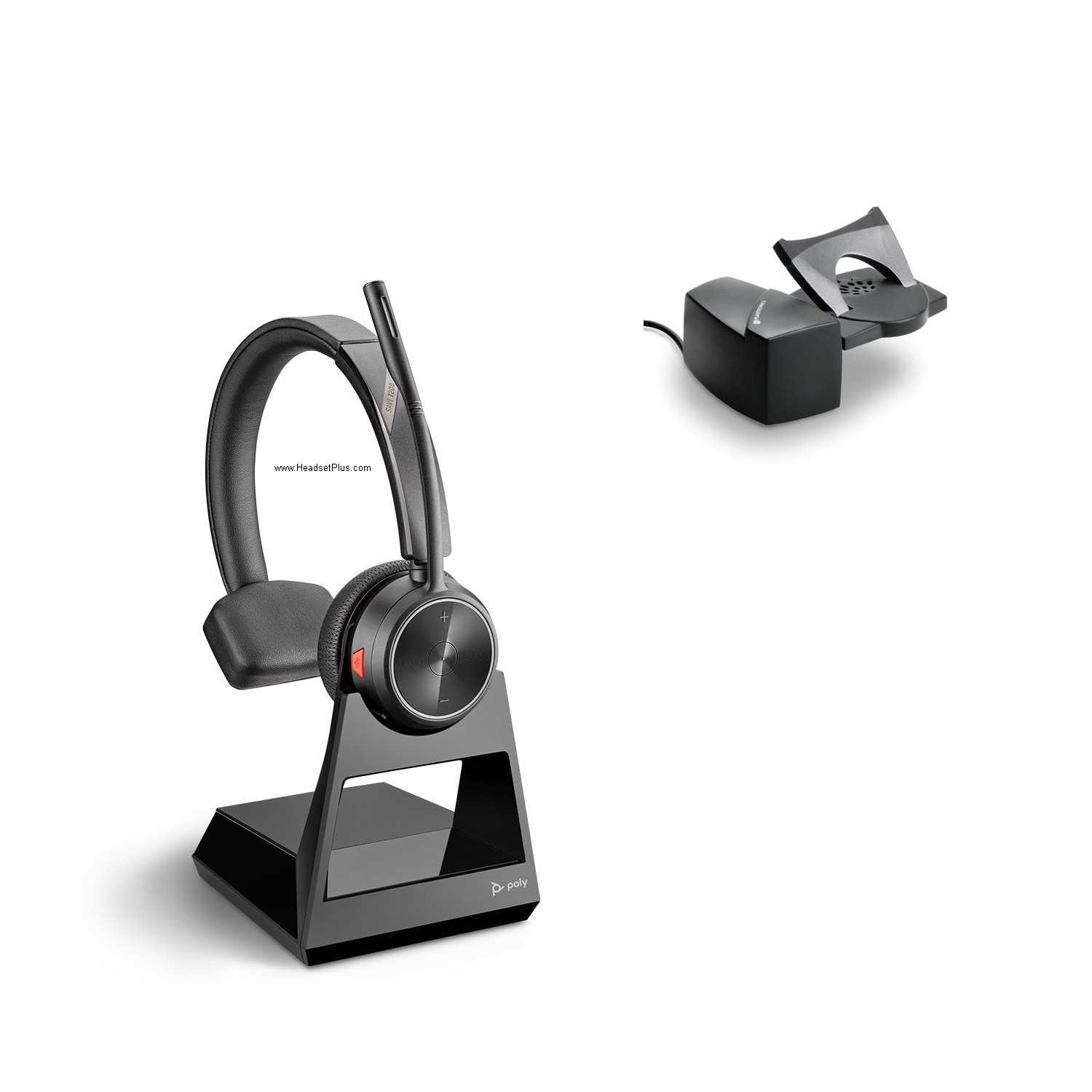 old one of just 8 and with a further range of now up to 400 feet on line of sight, all this without compromising the weight of only 104 grams, and with an easy to adjust headband. LED on the base that allows the user to know when the headset is charging and fully charged and with a more intuitive location of the mute control with an easy to find red color, a bendable microphone boom arm with Acoustic Fence technology with a dedicated microphone facing the outside with the main purpose of blocking most of the unwanted background noises, easy interface and install as this unit is designed for desk phones making it a solution for people wanting something easy to install and use as this is straight forward. This bundle comes with the remote answer on a mechanical lifter fully compatible with any desk phone with a corded handset (receiver), some other desk phones requires a different alternative such as a cable, if you are not sure which one to go, give a call and we can recommend and order you the proper solution.
Poly Savi 7310 Office Wireless Headset Mono, desk phone and PC
The Savi 7310 is a wireless headset designed for people wanting to use only one headset with their desk phone and computer as it offers dual connectivity for these 2 devices. Comes with a USB-A and a USB-C cable, making it compatible with virtually any PC or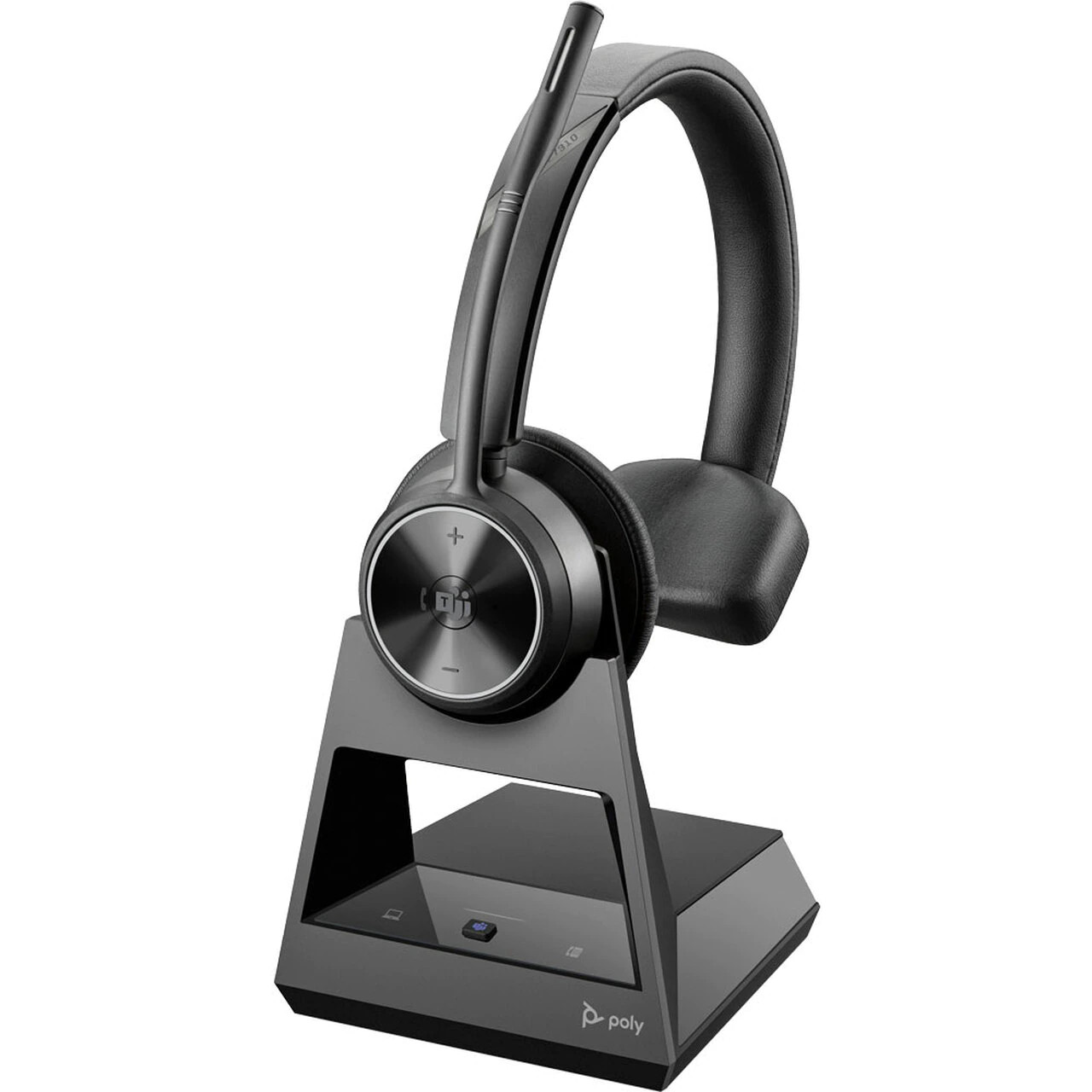 Mac and with and any desk phone with a corded handset (receiver). The Savi 7310 has a higher encryption chip of 256bit AES that is the highest encryption in the market available to keep conversations private, and for the same reason it offers up to 2X more density than other headset, this meaning that can be the double of headsets in one close location without interrupting between each other. Bendable microphone boom arm with Acoustic Fence technology can be found on the Savi 7310 and this meeting Microsoft Teams Open Office specifications. Thanks to the higher encryption chipset we find a further range with up to 590 feet on line of sight and with a talk time of up to 13 hours in one single charge. Base with LED indicators that work as selector as well and with mute notification on the base, customizable voice prompt via computer and using the Poly lens software.
Poly Voyager 4245 Office Convertible Bluetooth Headset
The 4245 Office headset is a convertible style headset that can be worn over the head with the headband, over the ear with the ear hook or behind the neck with the neckband, all of these includes with the headset. With a range of up to 300 feet on line of sight and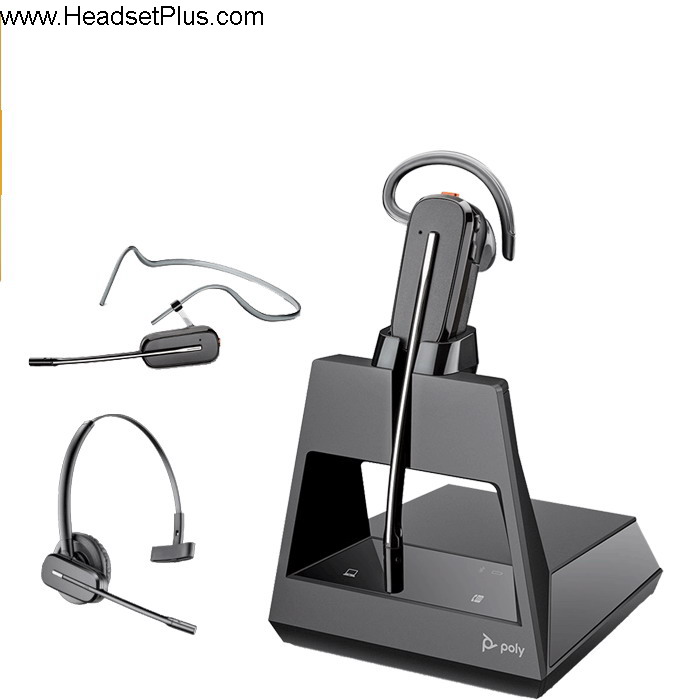 with multi connectivity so can be used with a desk phone, a computer and be paired directly to a Bluetooth enable device such as a cell phone or tablet and can be taken out of the office and being used down the road. For this reason the Voyager 4245 comes with an additional battery and charger as it is considered a Unlimited Talk time headset that allows the user to replace a deployed battery with a full charged one in the middle of call without compromising the call at any time. Plantronics well known noise canceling microphone can be found in the really light weight headset with a weight of only 28 grams! Fully customizable on alerts and voice prompts via computer or the smart phone using the Poly Lens software. Talk time of up to 12 hours per battery and up to 13 days of standby.
Poly Voyager Focus 2 Office USB-A Bluetooth Stereo Headset
Poly gives the new Focus 2 Office headset as a Bluetooth class 1 headset with a range of up to 300 feet on line of sight, fully compatible with desk phones and with multi connectivity with a computer at the same time via the included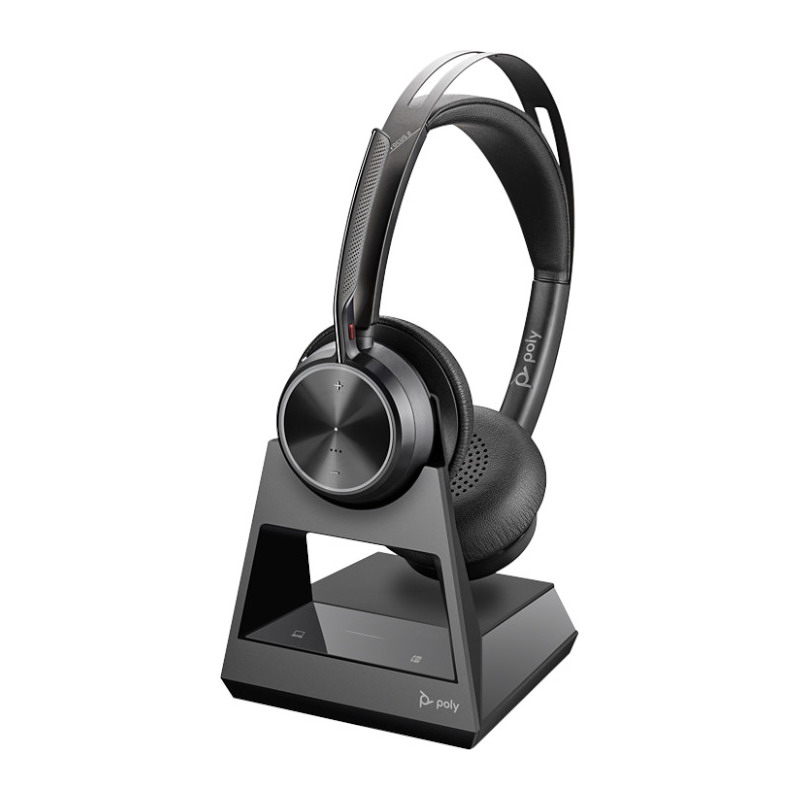 USB cable, and for the same reason of being a Bluetooth headset can be paired directly to a mobile device such as a cell phone and a tablet and can be taken out of the office and be used down the road! The Focus 2 headset offers Digital Hybrid Active Noise Canceling (ANC) that offers different levels of the feature so the user can adjust it as needed or wanted. Built in busy light can be found on the side of the headset that will light up when engage on a call and if being used outside the office and charge with a USB cord let the user known the battery status by a different color (blue). A discrete microphone boom arm with mute function comes with Acoustic Fence technology. Talk time of up to 19 hours in a single charge and with the voice over USB feature that allows to use the headset as a computer headset without the base or if need to charge it while on a webinar or virtual meeting. Comfortable adjustable headband with leatherette ear cushions are a nice touch specially for all day wearing headset. Smart sensors detect when the headset is being worn or not and they can answer calls by simply putting the headset on or can pause a computer streaming by taking it off.
JABRA OFFERS:
Jabra Engage 65 Mono Wireless Headset System
The Jabra Engage 65 mono is one of the top favorite wireless headsets from Jabra users, as this is a really light weight headset with a comfortable wearing style without compromising the sound quality for the user on the speaker or the performance on the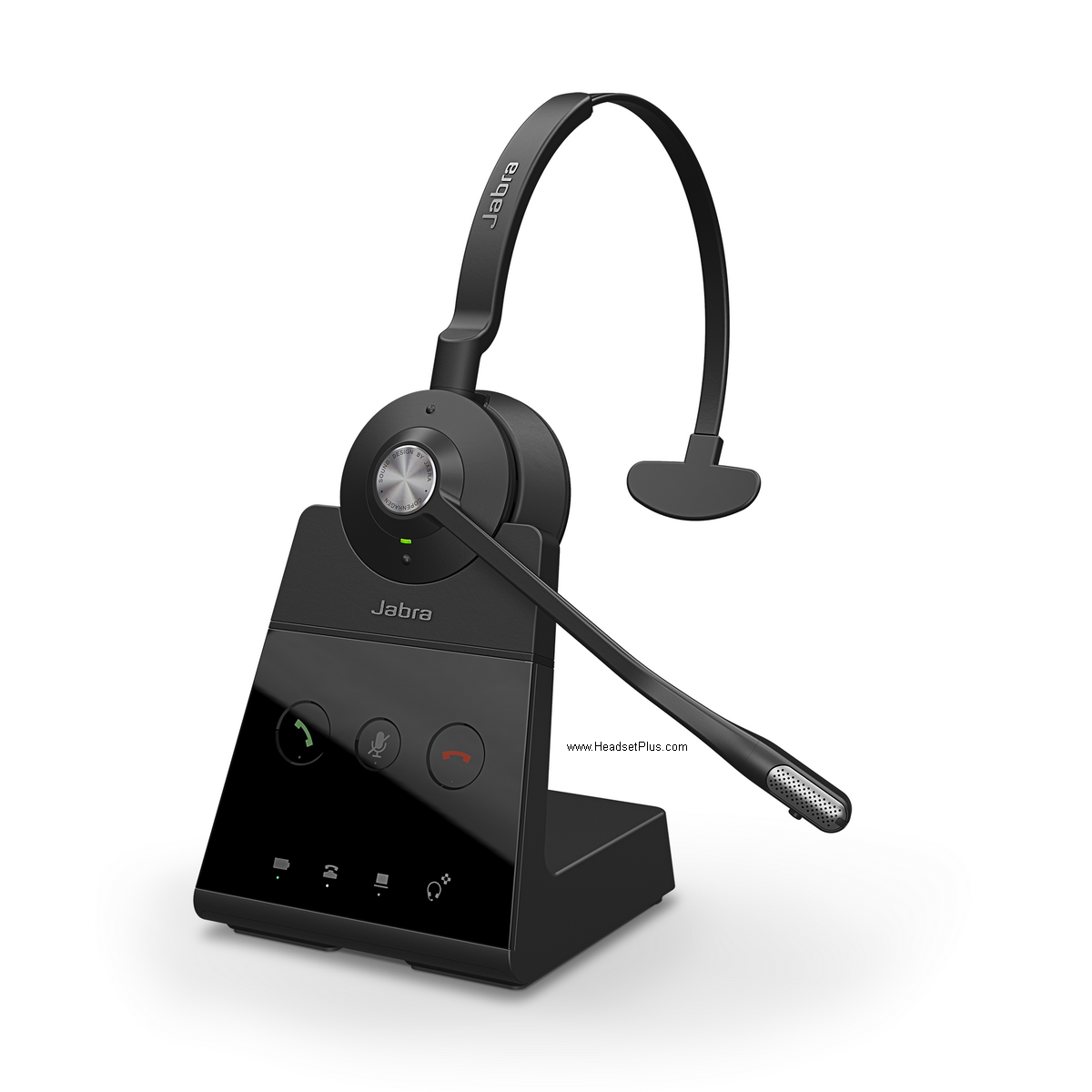 microphone for the other person at the end of the line. With a high encryption chipset allowing a range of up to 490 feet on line of sight and with 3X wireless density capability that allows more headsets in a single location without compromising interferences between users. The Engage 65 headset is a dual connectivity unit allowing to be used with a desk phone and with a computer via USB at the same time. The easy to use headset controls on the base allows to answer/end calls, mute the microphone and let know if the headset is linked to the base, which device is engaged in, and the battery status. Volume controls are found on the headset as mute and answer/end controls as well. Built in busy lights are found on the earcup and on the tip of the microphone boom arm. Up to 13 hours of talk time in a single charge and with fast charging capability as well.
Jabra Engage 75 Mono Wireless Headset System
The Jabra Engage 75 Wireless Headset System has the long wireless range of all wireless headset on the market today. Jabra Engage 75 Mono also offers the most feature of any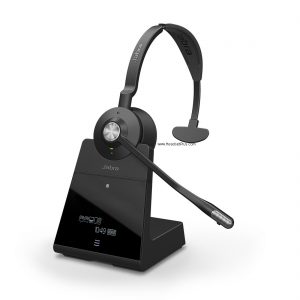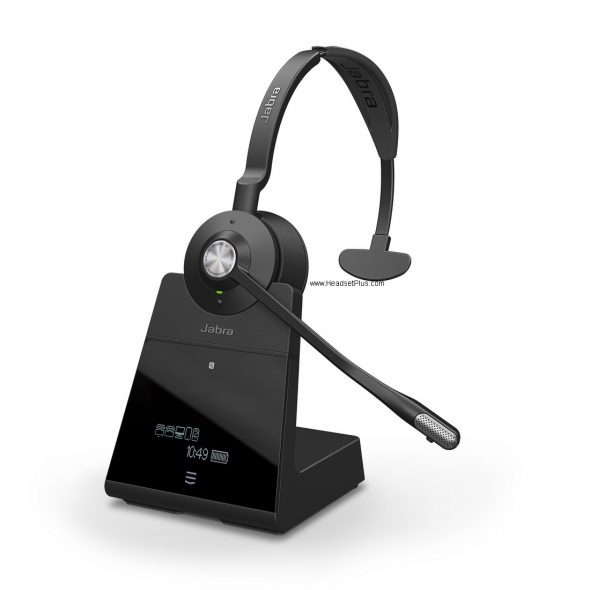 wireless headset on the market today.  HD clear audio sound and can connect with two smartphone, a desk phone, and two soft phone (5 devices total) as well as letting you seamlessly switch between any of these 5 devices using the touchscreen. When the battery is fully charged, it has a whopping 13 hours of talk time. It's also certified for Microsoft Skype for Business (MS Lync).
Using the reliable DECT 6.0 (1.9 Ghz) voice technology, you can stay connected with the wireless headset up to 490 feet.  It's equipped with 56-bit AES encryption and 128-bit authentication for secure conversation without any unwanted eavesdropping.  Click HERE for more details and to order
EPOS OFFERS:
EPOS Impact D30 (D30) Phone Headset System
EPOS, formerly known as Sennheiser is a binaural stereo sound wireless headset fully compatible with any analog or VoIP desk phone with a corded handset, with a straight forward interface and installation. Rich sound for the user and with noise canceling and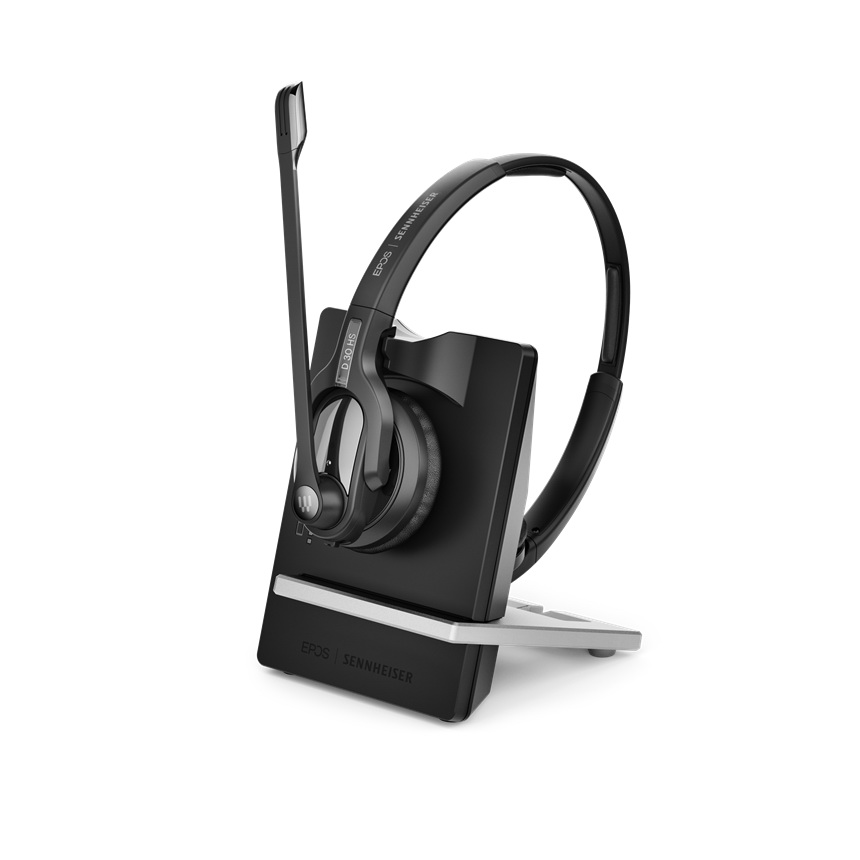 EPOS HD voice technology from EPOS with a range of up to 500 feet on line of sight. With a talk time of up to 12 hours non-stop in one single charge. We find fast charging on the headset as it can charge 50% of its battery in only 20 minutes, making it a nice alternative for people that are always in the use of their headset and requires something to have enough charge for all day. Easy to read LEDs are found on the discrete magnetic base that keeps the headset on place. Depending on the desk phone the remote answer adapter/lifter is recommended, and if not sure which one to choose from feel free to call and we can order you the proper one.
Wireless headsets for customer service representatives are common, but to choose quality headsets below 500 that works best for you, you'll have to experiment with comfort and viability. Not all headsets are created the same: some of them are clearly better than others. Although these three represent the best that the market has to offer in terms of wireless headsets, they are by no means your only choices. They simply represent the best value for money that you can get. You can also check out Bluetooth headsets with good sound quality for more mobility in the work place. Ideally, your headset should be comfortable and functional, allowing you to perform your job to the best of your abilities and with the least amount of trouble. Trying new headsets will allow you to choose the one that works best for your job.