You have a Polycom IP phone 301, 335, 430, 450, 500, 501, 550, 560, 600, 601, 650, 670, CX300, CX500, CX600, CX700, VVX 101, VVX 201 VVX 300, VVX 310, VVX 400, VVX 410, VVX 500, VVX 600, VVX 1500. Now available on HeadsetPlus.com Polycom headset page are Polycom certified plug and play compatible corded headsets.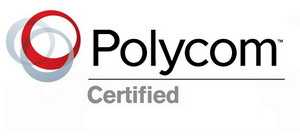 In addition, there are also wireless headsets from both Plantronics and Jabra with EHS remote answering capabilities (as long as you purchase with the Plantronics APP-51  or Jabra Link 17 Polycom IP Phone EHS Cable  along with the wireless headset you purchase.
In addition, if you're on a tight budget, there is the Jabra Biz 1920 Mono Direct Connect Headset for only $84.95, which is also a Polycom certified headset with 2 year warranty,  Personally, I like the Plantronics HW540-POLY Polycom Compatible Headset.  It's the middle of the line.  Comes with 3 wearing styles, so you're never stuck with any one style.