We proudly accept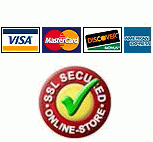 Shipping
We ship using FedEX or UP from Four HeadsetPlus warehouses across the USA located in California, Tennessee, Pennsylvania and Ohio. Depending on the product you order and its availability, your order may ship from any of these locations. We ship mostly within USA, Canada, and Puerto Rico. We can also ship worldwide and to to an APO/FPO military address, call or email us for detail information. Please note that you will be responsible for paying the customs and import duties at the time of delivery. HeadsetPlus cannot determine these fees during the checkout process. For more information, please contact your local customs office.
We do our best to ship all the orders the same business day if the order is placed before 5PM (Eastern Time) or 2PM (Pacific Time). Orders placed after 5PM EST will ship the next business day. Orders placed over the weekend or holidays will ship the next business day. You have choices of shipping UPS Ground (3-7 business days), UPS 2nd Day Air (2 business days), or UPS Next day Air. UPS Standard Shipping to Canada. Shipping cost is calculated based on the total weight of your order + insurance. You will receive a order status and tracking update via Email within 24-36 hours of your order. The status you receive in the email are are explained in more detail below:
PENDING: Your order has just been recently placed, or has been placed on a closed-for-business day (i.e. Holiday, Sat., Sun.).
PROCESSING: Your order has been pulled & packaged and is ready to ship. Your order will stay in this status until our warehouse has given us a tracking# for you; so it is possible that it has already shipped out!
SHIPPED: A tracking number has been posted (When available).
BACK ORDERED: An item (Or items) on your order is currently on back order from the manufacturer & an ETA has been posted.
We understand at times it is necessary to cancel all or part of an order with us. In the event of a cancellation you should be aware of the following:
We usually process and ship orders the same business day of placement. If you wish to cancel an order after it is shipped (processed), you will need to call us for an RMA#. DO NOT refuse the package when it arrives. A $25 fee is charged by UPS/FedEX for the refuse package, which we have to pass on to you. To cancel an order, please call (650) 306-9768 or email us as soon as possible.
Thursday 28 September, 2023 93224606 requests since Wednesday 26 November, 2003