We proudly accept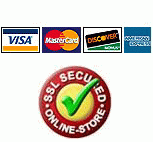 Headsets for Altigen IP500 IP510 IP600 IP705 IP710 IP720 Phones

These are compatible headsets for Altigen AT-500, AT-510, IP-600, IP-705, IP-710, IP-720, IP-805 Phones
Plantronics Corded Headsets: Use any Plantronics H-Series Headsets + a Plantronics U10 Cable (part# 27190-01).
Note: corded headset solution above require 2 pieces - the headset and the bottom cable.
Jabra/GN Corded Headsets: Choose any model from the Jabra/GN Direct Connect Headsets page. These headsets are already pre-bundle with the GN1200 smart cable for your Altigen Phones (setting 7)
Wireless Headsets: Both Plantronics Wireless Headset and Jabra Wireless Headsets are compatible with Nortel phones. For remote answering on the Altigen phones you need a Plantronics HL10 Lifter or GN 1000 lifter for Jabra/GN wireless headsets.
Note: If you have the AltiGen IP720, it has a built in Plantronics Serial Bus (PSB) port with built in electronic hook switch - no lifter require for remote answering. The PSB port cable is included with the phone. we recommend Plantronics CS540 or the Plantronics CS50 wireless headset
Still Confused? Call our Headset specialists at 877-999-3838, we'll help you pick out the best headsets. Below are just a sample of compatible headsets.
Displaying 1 to 11 (of 11 products)
Sunday 10 December, 2023 94082417 requests since Wednesday 26 November, 2003